Ospreys lose late to Mercer, 2-1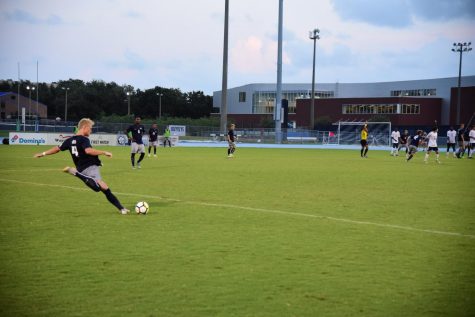 In the first matchup of the Mike Gibbs Invitational, the Ospreys allowed a late goal after jumping out to a hot start. It was a close contested game that came down to a controversial call which sealed the game with North Florida losing.
In the first half, North Florida looked aggressive with their style of play. They quickly had Mercer on their heels early and often and forced the Bears to quickly defend. The Ospreys were able to get on the board following a penalty kick goal from Junior Mikey Connell in the 20th minute.The Bears were able to respond with a goal from Freshman Trevor Martineau, bringing the game to a tie.
In the second half, both teams struggled to find the ball in the net. As the game waned, fatigue and frustration kicked in for both teams as they began to desperately search for any answers. The game took a strange turn late in the 83rd minute when an slight inference from an official led to a handball call on the Ospreys. This forced them to immediately defend a penalty kick. The Bears quickly took advantage of this situation and converted the go-ahead goal following a swift strike from Midfielder Roberto Arteaga. The game ended on a sour note for the Ospreys, 2-1.
North Florida will remain home to take on Appalachian State in game two of the Mike Gibbs Invitational on Aug. 26 at Hodges Stadium.   
—
For more information or news tips, or if you see an error in this story or have any compliments or concerns, contact [email protected].