Community rallies at Jacksonville City Hall following the Jacksonville Landing shooting
On the afternoon of Sunday, Aug. 26, shots rang out inside the Jacksonville Landing during a gaming tournament, killing two innocent people and wounding eleven more. The very next evening, on Aug. 27, the community crowded Jacksonville City Hall's steps to raise their voices against continued gun violence in their community.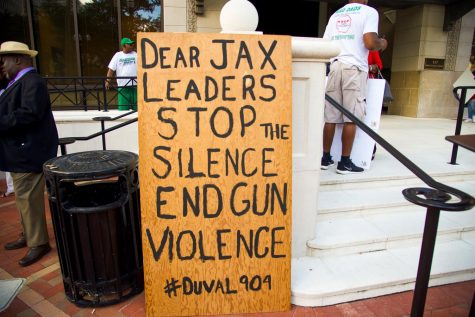 A variety of speakers were asked to share their messages at Jacksonville's City Hall. Amongst others, groups such as March for Our Lives, Women's March, New Florida Majority and Moms Demand Action for Gun Sense in America were present to raise attention for their causes.
"It's important that everyone hears our message because we are all in this together. It's going to take all of us to bring the change that we want to see. The only way to do that is to inform everyone," Cheryl Anderson, the Florida survivor membership lead for Moms Demand    Action for Gun Sense, explained.
Amongst the organizations invited to speak, local parents who had lost their children gun violence also told their stories.
Ron Davis spoke on behalf of his son Jordan Davis, a 17-year-old boy who was killed as a result of gun violence at a Gate gas station in Jacksonville.
"Stop thinking individually, and start thinking of the collective," Davis said."We have to come together. It's not about much money you make, how many mansions you have, how many boats you have. It's about how many times that you've reached back and helped somebody else."
All speakers emphasized that shootings are only going to stop when there is unity within the city's inhabitants and its leaders to agree on gun control regulations.  
"More importantly right now is that everyone gets out to vote. Because we need to put the right people in office so that they can help us make these changes we need to see," Anderson said. "Sadly, no policy change can bring back those lives that have already been taken from us, but our leaders can take action to prevent further gun violence. They should not hesitate to require a background check on every gun sale in our city."
Students and young adults are being urged to find a way to make a difference by raising their voices and participating locally.
University of North Florida graduate and 97.9 Kiss FM talk show host Catalina Alers-Alers, attended the conference to show her support in one of the few ways she knew how: with her voice and her actions.
"It's important to take a step back and look at the community around us and see where we can be used," Alers-Alers said.
Alers-Alers explained how she believes it's important for UNF grads and current students to get out of their own bubbles, explore more and expose themselves to the full culture of Jacksonville.
All participating speakers urged the public to attend the City Council meeting on Wednesday, Aug. 29 at 5 p.m. in City Hall, which will be followed by a candlelight vigil at the Landing at 8 p.m.
—
For more information or news tips, or if you see an error in this story or have any compliments or concerns, contact [email protected]