Blood Orange gives us hope with "Negro Swan"
The cover of Devonté Hynes' latest release as Blood Orange features a winged man languidly sitting on a car window sill, ear to the roof and arms obscuring his face. To step into the shoes of photographer Ana Kraš would be to surround yourself with the sounds of the New York City streets. You would hear the running of engines and rolling of tires, the rustling of leaves and litter, and the frequent honking of passing vehicles. Hynes' opens "Negro Swan" with just that, subjecting us to his noisy city. A few seconds into the ambience, a distant bass fades in, guiding us into an album that's as much a piece of Dev Hynes himself as it is a social statement for the marginalized.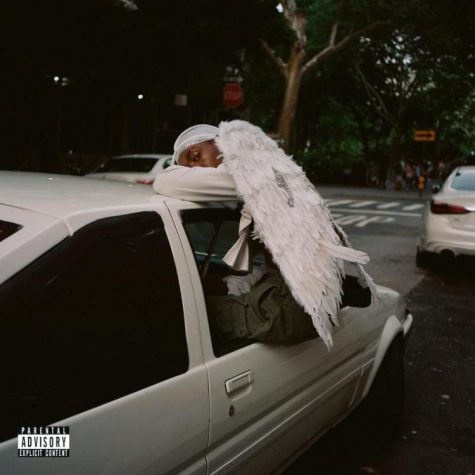 The artist known as Blood Orange can be viewed as an encapsulation of the city streets and its individuals. Over the past decade, Hynes has made enough connections to rival the NYC subway, working with a diverse group of artists from pop icon Carly Rae Jepson to the hugely influential composer Phillip Glass. A brief description of Hynes can't go without several titles, whether it be producer, video artist, multi-instrumentalist or film score composer.
A person's accomplishments often lift them above our heads, where we're forced to look up and strain our necks at their success. With the opening track "Orlando," however, Hynes solves this by dropping us into his troubled youth in Essex, England. The song is a soulful recount of an incident after school where Hynes was jumped for being different: "After school, sucker punched down. Down and out. First kiss was the floor." The story is told in fragments and improvised melodies. In an interview with Pitchfork, Hynes spoke of his method of creation for the track: "…I tried an experiment that was like: What would Marvin Gaye do? He would have his words written and know a refrain or two, but everything else was a one-take, just creating melodies up."
However, Marvin Gaye's vintage soul wasn't the only musical inspiration for "Negro Swan." "Dagenham Dream" captures another picture of Hynes' youth, utilizing influence from the likes of Cocteau Twins. In "Holy Will," a white noise intro pulls us back through time into 80's gospel with this Clark Sisters cover. Here Hynes takes the lead in the original octave, shouting high-range vocals and leaving guest Ian Isiah's inherently elevated range in the background. The final result is a fiery shattering of conventions, which can only further relate to the accepting nature of the album.
In several tracks are beautifully installed excerpts from a conversation Hynes had with transgender rights activist Janet Mock. In "Jewelry," atop synthetic strings, saxophone and vocalizations, Mock's voice-over encourages self-acceptance: "…my favorite images are the ones where someone who isn't supposed to be there, Who's like in a space where we were not ever welcomed in, we were not invited, Yet we walk in and we show all the way up. People try to put us down by saying, 'She's doing the most,' or 'He's way too much.' But, like, why would we want to do the least?"
Another notable instance of Mock's commentary lies in the 40-second track "Family," in which she talks about her own definition of the word, one of complete acceptance: "I think of the spaces where you don't have to shrink yourself, where you don't have to pretend or to perform. You can fully show up and be vulnerable, and in silence, completely empty. And that's completely enough."
These views are, of course, repeated by Hynes throughout the record. In "Out of Your League," a synthy pop track featuring Steve Lacy on the keyboard, the line "Don't have to fill no expectation that aren't the thoughts that you conceive." is repeated in the verse, and in "Nappy Wonder," the phrase "Feelings never had no ethics" is also recurrent, implying a natural disconnect between how you feel and how you've been trained to feel.
Music videos for the two singles are crisply shot and edited, giving the whole project a polished feel that can typically be harnessed to push an effect further towards its intended destination. For the first single, "Charcoal Baby," a split-screen music video begins with Mock's "Family" voice-over, leading into a song that, Hynes told Pitchfork in an interview, is "a celebration of black skin."
[embedyt] https://www.youtube.com/watch?v=hIlauccaH88[/embedyt]
In the video, two instances of family, as described by Janet Mock, come together to celebrate in a loving and accepting environment. Groovy detuned guitar, reminiscent of the modern jangle pop popularized by the likes of Mac Demarco, is very prominent here. Also pleasant is the flow of synth in the chorus, providing a sedimentary bass.
A major musical stand out in "Negro Swan" is the raw, detuned and fragile "Take Your Time." Opening and moving along with the wavy pitches of a detuned and meandering keyboard, "Take Your Time" is minimalistic and affecting, sprinkled with the occasional harmonized interlude à la Gaye's "What's Going On." Hynes' voice melancholically delivers the memorable melody, held up only by the keys, allowing you to recover just before the upbeat "Hope," in which he's able to mix jazz piano and Puff Daddy.
Although much of the album is dark and reflective, hope shines in the repetitions of the later tracks. The finale, "Smoke," ends with a swell of the words "The sun comes in, my heart fulfills within." after previously "…waiting for the smoke to clear."
And that "smoke" mentioned earlier in the track can be seen as all the negativity inhabited by other areas in the album. Hynes' violent childhood, Mock's goals as an activist, and the general grief of not being accepted in the world you were born into, the inability to live as yourself in the same way others do, are all valid points that can only be concluded by the uncertain ideal of hope.
In a press release before the album drop, Devonté Hynes confirms: "The underlying thread through each piece on the album is the idea of hope, and the lights we can try to turn on within ourselves with a hopefully positive outcome of helping others out of their darkness."
Rating: 4.5/5 Sails