Students evacuate library after fire alarm goes off
Students evacuated the Thomas G. Carpenter Library and Starbucks after the fire alarm in Bldg. 12 went off Wednesday, Sept. 26.
[embedyt] https://www.youtube.com/watch?v=R3dBKpddMiU[/embedyt]
Video by Amanda Cox
The fire alarm was set off by a water flow monitor, according to Lisandra Carmichael, the interim dean of the library.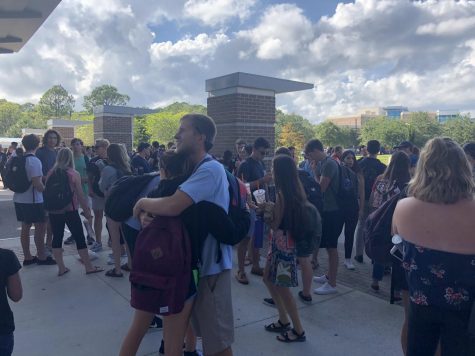 The building was closed for 20 minutes. UNFPD surveyed the library and cleared it for re-entry. There was no damage to the building structure or anything inside the building, according to Carmichael.
"I was on the second floor then I heard the the alarm go off and then we all went outside," Chloe Polder, an information systems sophomore, said. "No one knew what was going on. I kinda thought it was a drill, but the way they said it on the [intercom] made me feel like something else was going on."
—
For more information or news tips, or if you see an error in this story or have any compliments or concerns, contact [email protected]