Student Government: Record turnout for special Osprey Voice, budget requests and candidate interviews
The UNF Student Government Legislative branch held committee meetings on Friday, Sept. 28 to hear the results of the special Osprey Voice, forward a legislative and judicial candidate on to Senate and hear budget requests.
University and Student Affairs Committee Chairwoman Delaney Kwatkosky shared that there have been more than 2,000 responses to the special Osprey Voice. The special Osprey Voice survey was held to gather students' reactions to the University's new alcohol policy. Student Advocate Madison Brantley told the committee that Student Body President Jenna DuPilka will be sharing the results during her presentation in front of the UNF Board of Trustees on Oct. 10. For comparison, the Student Government election in the fall had 1,649 total votes counted.
The students' responses leaned heavily against the new policy. Results will be released after the survey closes at midnight on Sunday, Sept. 30.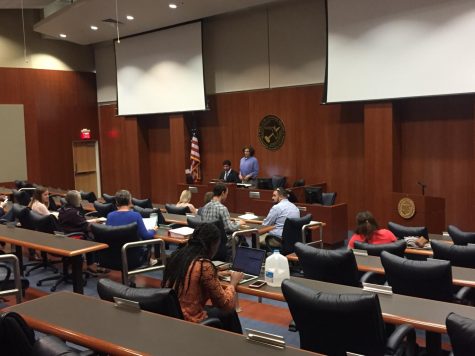 The Budget and Allocations Committee met to hear budget requests from two student organizations, as well as from Executive Chief of Staff John Aloszka. Aloszka presented a request for $1,568.47 to purchase laptop chargers that will be available to rent in the Thomas G. Carpenter Library. This initiative is designed to resolve an issue where laptops had to be rented together with a charger, so students who just needed a charger were forced to rent the laptop, as well. This caused a shortage of laptops, therefore offering chargers separately is expected to alleviate some of the shortage.
The request for laptop chargers will be voted on by Senate while the travel requests were approved and will be forwarded to the President's desk for final approval.
The committee also heard a travel request from the Nutrition Journal Club for $1,500 to attend the Food and Nutrition Conference Expo in Washington D.C. The club's goal is to discuss and gain an understanding of scientific research articles about nutrition and dietetics. The group plans to send four members to the expo to represent UNF and network with more than 10,000 attendees.
The Students for Democratic Society also made a request in the amount of $1,320 for travel to the SDS National Convention in Salt Lake City. According to the SDS President, Monique Sampson, the organization is a non-partisan group that is focused on local issues. The convention attendees will hear from teachers, trade unionists and political analysts to learn tips on organizing and to learn about the labor movement. The group was invited to report back to the Senate after their trip.
The Government Oversight committee was chaired by Senate President Thomas Pluchon in the absence of GO Chairman, Patrick Healy. The committee heard and interviewed Senate candidate Robert Lessan and judicial candidate Lucas Richter.
Senate candidate Lessan, a junior majoring in international business., spoke briefly about the leadership experienced he gained from his 15-year career in the U.S. Army.
Lessan finished his remarks with a quote: "If you don't stand for something, you'll fall for everything."
The senators asked about his strengths and weaknesses, as well as his abilities to be unbiased. Lessan answered each of the senators' questions and discussed the skills and experiences that he would bring as a senator. He was forwarded unanimously for a vote on the Senate floor.
The GO Committee also heard from Associate Justice Candidate Richter, a freshman in the Honors College. Richter gave his remarks and described his experience of sitting on a county board and interning for a congressman. The committee asked Richter a number of questions that delved into his experience and skills. During his questioning, he was asked why he chose to apply for a justice rather than a Senate seat.
"When I interned for the congressman back in my home state, I saw a lot of protests against him and came to the realization that he wasn't a good person," Richter explained. "That's not the life I want."
The committee unanimously forwarded both candidates to Senate for confirmation.
The next Senate meeting will take place on Friday, Oct. 5.
—
For more information or news tips, or if you see an error in this story or have any compliments or concerns, contact [email protected].