Student Government: Proposal to amend the University alcohol policy, expanding Medical Amnesty and upcoming Lend-a-Wing food drives
The UNF Student Government Senate met on Oct. 5 to hear reports from officers, confirm a Judicial Branch and Legislative Branch appointment and to vote on funding for rentable laptop chargers. Attorney General Cody Choi and Senator Anthony Hall also introduced a bill that would "issue a formal opinion that the new Alcohol and Other Drugs policy should be amended to allow alcoholic events on campus, such as tailgates."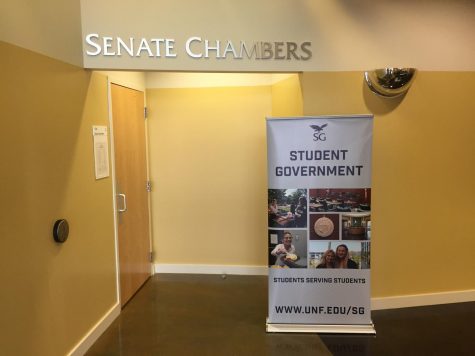 Student Body President Jenna DuPilka reported that she will be presenting the recent Osprey Voice results on the alcohol policy to the UNF Board of Trustees on Thursday, Oct. 11 at 9:30 a.m.
The Senate also voted unanimously to approve the use of $1,568.47 from the Special Request Index to purchase about 20 laptop chargers that will be available to rent in the Thomas G. Carpenter Library. The Executive Branch heard from students that laptops were not usually available for rent in the library. After speaking with the library staff, they found that students weren't able to rent a charger without renting the associated laptop. President DuPilka's initiative will allow chargers to be rented separately from laptops, which should alleviate the shortage of laptops in the library.
Student Body Vice President Maria Bermudez shared a number of upcoming events including Osprey Productions' showing of "Frida" for Hispanic Heritage Month on Oct. 10, Clubfest's "Clubflix and Chill" on Oct. 15, "Spookathon" on Oct. 24 (which is this year's first outdoor movie at the Coxwell amphitheater) and the "Rocky Horror Picture Show" on Oct. 28. The latter is an annual event which has students put on a show after watching the movie.
Bermudez also asked senators for help with Lend-a-Wing, which is a student-run food pantry designed to "combat food insecurity on campus." Bermudez told senators that "last year Lend-a-Wing served 20 students a week. So far, they have been serving twenty students a day. They are in dire need of food."
SG will also be holding food drives at Starbucks, in front of the Thomas G. Carpenter Library and at the Student Union to gather donations and restock the pantry. Starbucks will be giving out coffee and tea in exchange for donations. Lend-a-Wing will accept any non-perishable and hygiene products, but cannot accept glass.
Student Advocate Madison Brantley reported that she is seeking student input on parking. She told senators that the Parking Committee, of which she is a member, is asking for input on parking at UNF. She asked senators to share their parking experiences and experiences of students with her to present to the committee. Brantley is working to get specific issues that students have with parking because "the members of the committee focus on data, and the data says that parking is fine."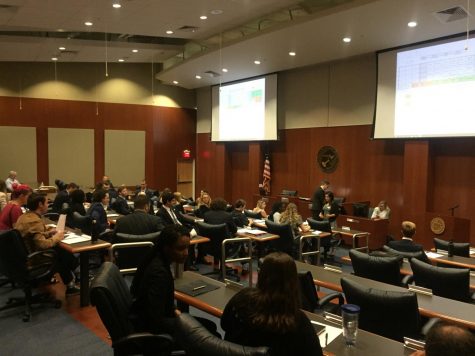 Treasurer Julia McComb gave a training to senators on some of the metrics that are used to evaluate UNF. The Florida Board of Governors uses "performance-based funding" to determine how to allocate over $200 million each year. UNF is among the bottom three universities, which means it did not receive any funding this year. McComb discussed some of the initiatives that student government can take to help with these metrics. She shared the example of a new question on the student organization budget form, which asks clubs to consider how they can help the metrics.
Elections Commissioner Lawrence Dutton reported that there were not enough candidates to hold a fair election this fall semester. Therefore, a bill will be introduced to install the new senators via acclamation.
Executive Chief of Staff, John Aloszka, reported that 20 new umbrellas have been installed throughout campus and will be managed by the Physical Facilities Department. Aloszka reported the upcoming purchase of swings, which will be installed around campus, as well. He also discussed his work with the Florida Student Association on a statement in support of medical amnesty to the Florida Board of Governors.
The UNF Medical Amnesty program is a policy that gives certain protections to students who seek medical help from being charged under the Student Code of Conduct. The policy is designed to make sure that students can call for help without having to worry about getting in trouble. The policy is also designed to protect victims of sexual assault who may have engaged in underage drinking. Currently, the policy is only active on campus, but the FSA will be sending a letter to the Florida Board of Governors recommending that it be applied off campus. Currently, the state of Florida has a similar policy for controlled substances.
Finally, senators heard from legislative appointment Robert Lessen and judicial appointment Lucas Richter. Each gave a brief statement and answered questions from the Senate.
Both were unanimously confirmed.
Student Government committees will be meeting on Friday, Oct. 12.
—
For more information or news tips, or if you see an error in this story or have any compliments or concerns, contact [email protected].
*Updated: 10/8 8:30 p.m.