Into the Spider-Verse: With great power comes a phenomenal film
Seeing how Marvel is doing phenomenally well with one Spider-Man, it only makes sense to make a film with a whole bunch of Spider people.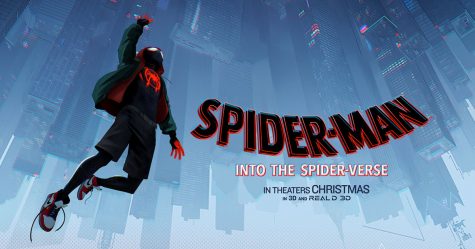 "Spider-Man: Into the Spider-Verse" follows the classic Spider-Man mold as it introduces us to Miles Morales (Shameik Moore), a teenager who must juggle both his family and school life while also making a name for himself as the new Spider-Man. Miles life runs off the rails when he finds an adult Peter Parker (Jake Johnson)–the web-slinger we all know and love–has mysteriously entered his world and decides to mentor Miles to become a better superhero. Along the way they come across multiple Spider people, dangerous villains, and tons of jokes and Easter eggs that poke fun and celebrate the Spider-Man lore.
Personally, as both a moviegoer and huge a Spider-Man fan, I can safely say that this is the best animated film, if not one of the best films overall, I've seen this year. One thing that's easy to love about this film is the animation. Everything from the landscapes of New York to the comic book-like pop ups that reveal characters' inner monologues, it's amazing how the people behind this put so much time and effort into something this inventive and unique.
It's about as close as anyone has come to emulating a comic book on screen, all the way down to having some characters appear in different styles of the genre.
The film doesn't just stop there. While the colorful visuals produce an intriguing setting, the strong story takes the lead, as we finally get to experience a new and complex Spider-Man, Miles Morales. The huge cast of characters in this film, some of whom we already know from our childhood, could have easily overshadowed Miles' character, but this film does a fantastic job of focusing on a teenager who struggles with tragedy and revels in the joy of being a Spider-Man. It helps that the character is balanced out by an excellent cast, ranging from Hailee Steinfield's free-spirited Spider-Gwen to Nicolas Cage's monochromatic Spider-Man Noir. I could easily see each of these Spider people in their own movies.
What else can I say. The cast is wonderful, the animation is next level, and the jokes hit the bulls-eye (speaking of which, stay after the end credits). It's just a film I can't wait to see again and again. With all the pointless sequels we're getting to some animated films nowadays, this one definitely demands future installments. I would love to see Miles evolve as both a hero and a teenager, while encountering more Spider people and, maybe, exploring their worlds. In short, this is a creative film that every Spidey fan can love.
Rating: 5 out of 5 sails

—
For more information or news tips, or if you see an error in this story or have any compliments or concerns, contact [email protected]