Eagles heat up early in win over Ospreys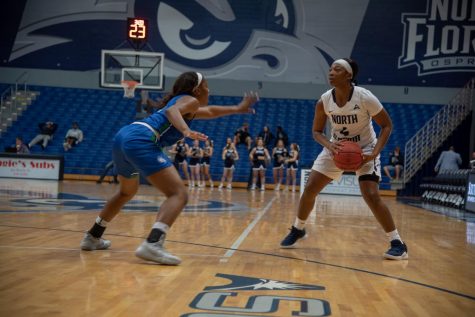 The Eagles' lights-out shooting propelled them to a convincing 105-66 win.
Senior Ty Purifoy scored first for the Ospreys on a heavily contested layup to tie the game up at two.  Redshirt-Junior Keri Jewett-Giles sinked in a three to put the Eagles up, 5-2. There were more of those threes to come as the Eagles were 4-11 from long range. FGCU maintained a 12-2 lead with 6:47 left and were taking control of the game. A three-pointer from Freshman Lauren Gross pulled the Ospreys within five as the score changed to 12-7, FGCU. The Ospreys were missing shots up close and that was a difference maker early in the game. FGCU continued to put pressure in the post and the scheme worked for majority of the first quarter. At the end of the first quarter, the score was 23-12, Eagles.
The Ospreys reached within 10 on a mid-range jumper by Senior Arianna Emanuel-Wright early in the second quarter to make it 28-18, Eagles. Threes kept putting the Ospreys out of reach and allowed the Eagles to distance themselves. Junior Nasrin Urel and Redshirt-Senior Destiny Washington combined for 20 points in the half. At halftime, the Eagles led, 50-29.
Purifoy was firing on all cylinders as she scored four points in the first two minutes of the second half. Momentum continued to be on the Eagles side as they maintained an aggressive playing style. The lead was enlarged to 30 on a Jewett-Giles three, 67-37.The Eagles were getting good looks and making 6-10 shots from the field. As the third quarter ended, the Eagles were still up, 77-44.
Junior Adrienne Jackson knocked in the first points of the fourth quarter with a made shot from mid-range. The Eagles pushed the lead to 41 on a layup by Redshirt-Junior Davion Wingate. Eventually, the Eagles ended up winning the game, 105-66.
For the Eagles, Jewett-Giles led the team with 19 points and Ulel added 18 points in the win.
Emanuel-Wright led the team with 17 points, Purifoy dished out seven assists, and Redshirt-Junior Jazz Bond added 11 points.
Coach Darrick Gibbs talked about some things he learned after the loss to FGCU.
"We got to be better defensively, we got to be tougher and we got to execute better," Gibbs said.
Emanuel-Wright talked to Spinnaker about FGCU's performance throughout the game.
"I thought they were way more physical and I feel like that rattled us in the first quarter when they went on a 12-4 run," Emanuel-Wright said.
This loss drops UNF to 6-8 (1-2 ASUN) and the win puts FGCU at 12-4 (3-0 ASUN).
The Ospreys stay home and play Stetson on Tuesday, Jan. 15 at 7 p.m.
—
For more information or news tips, or if you see an error in this story or have any compliments or concerns, contact [email protected]