Another Boeing plane went down – on the St. Johns River
On Friday, May 3, at around 9:40 p.m. a Miami Air flight fell from the Naval Air Station runway and into the St. Johns River. NAS JAX responded to the issue and later accounted for all of the 136 passengers aboard as alive. According to officials, 21 people were injured and sent to hospitals in the area.
The plane was landing at NAS JAX from Naval Station Guantanamo Bay, Cuba and is said to have been a mix of both military personnel and civilians. All injuries were reported as minor and non-life-threatening.
"I think it is a miracle," Commanding Officer Capt. Michael P. Connor said at a news conference early on Saturday, May 4. "We could be talking about a different story this evening…it very well could be worse."
It hasn't been determined whether or not severe weather played a roll in the crash, however, there was reported lightning in the area at the time, according to meteorologist John Gaughan.
Mayor Lenny Curry tweeted about the crash: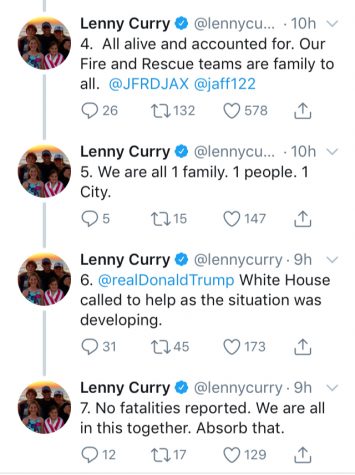 The National Transportation Safety Board said it intends to send a team to further investigate the third Boeing 737 crash that has been reported in the last seven months. This crash followed the Lion Air crash in October of 2018 and the Ethiopian Airlines crash in March of this year, both of which were fatal crashes. These two planes were Boeing 737-Max planes, whereas the plane on the St. Johns Friday night was a slightly different model – the Boeing 737-800 jet.
Although only one model seems to have yielded fatalities so far, Boeing is still being sued in its entirety as it faces claims of manufacturing errors that are said to have taken place in its South Carolina location.
"Since September, the agency has investigated and confirmed three safety complaints made by employees who detailed problems with planes in the final stages of production," The New York Times reported on May 2, the day before the Boeing 737-800 jet landed in the St. Johns.
This is an ongoing investigation.
__
For more information or news tips, or if you see an error in this story or have any compliments or concerns, contact [email protected].