You can go to the library to … relax?
The River of Knowledge Garden located in front of  UNF's Library is a reflexology sensation path where students and faculty can enjoy a foot massage and improve overall health, according to the signage.
The path is made of multi-colored and textured stones designed to activate pressure points on the feet and target specific parts of the body. The benefits claim to promote relaxation, improve brain power and lower blood pressure among other things.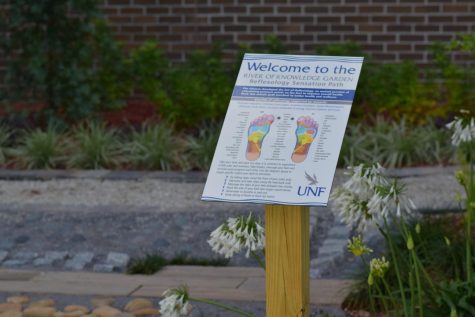 The sign in front shows how to target precise areas, such as the lower back, shoulders and knees. New users are advised to start slow, due to the possibility of a little pain and soreness in the beginning. Those who use this garden are also advised to take breaths while maneuvering through the path as a part of the experience. 
The path is located outside of the library along the wall closest to the library parking lot.
__
For more information or news tips, or if you see an error in this story or have any compliments or concerns, contact [email protected].