Spinnaker Sports Editor's top five sports movies
Every sports fan has their favorite sports movie, whether it's Rudy, Rocky, or Summer Catch. There was a plethora of sports films that I had to cipher through and it was hard to nail it down to five. The list below are my top five movies based on story, acting and historical aspect.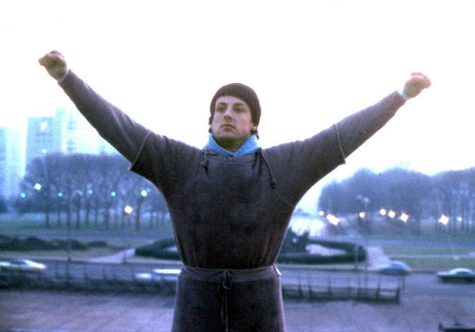 1. Rocky: The original "Rocky" movie in 1976 is my favorite sports movie because it set the standard for future sports movies later on down the road. Sylvester Stallone wrote this movie and then delivered with a performance that made all of us want him to defeat Apollo Creed. Also, the scene with Rocky running up the steps to the Philadelphia Museum of Art led to his own statue that is always infested with tourists. This is the only Rocky movie on my list, but "Rocky IV" was up there because of the perfectly timed USA vs Russia feud during the Cold War that exuded pure patriotism. People can argue what "Rocky" movie is best but the original gave us the story of Rocky and how he came to be.
2. Rudy: Everyone loves a good underdog story. No one personifies an underdog more than Rudy Ruettiger, an undersized player who one day hoped to play for the Notre Dame Fighting Irish football team. Sean Astin, who's known for playing Mikey in "The Goonies" and Bob in "Stranger Things," showed us all what it's like to feel judged on our size, but he persevered and got to don the number 45 in a game against Georgia Tech. This game is filled with heart and an underrated character was Fortune, the janitor who motivated Rudy to never give up. One of his famous quotes was, "You're five foot nothin. A hundred and nothin. And you have barely a speck of athletic ability. And you hung in there with the best college football players in the land for two years. You're gonna walk outta here with a degree from the University of Notre Dame. In this life, you don't have to prove nothin' to nobody but yourself. Am I making myself clear?" "Rudy" is a strong number two in the top five.
3. Major League: With all of the inspiring and motivational sports, there is a realm of sports comedies. The best sports comedy is "Major League," a film about an awful Cleveland Indians team who started out pitiful but rallied late in the season to save their ballpark in Cleveland, much to the owner's chagrin. This movie had an all-star cast starring Charlie Sheen as Ricky "Wild Thing" Vaughn, Corbin Bernsen as Roger Dorn, and Dennis Haysbert as Pedro Cerrano. You might know Haysbert as the deep-voiced Allstate spokesman who asked, "Are you in good hands?" Every baseball fan can remember at least five quotes from this movie. My personal favorite is, "You're saying Jesus Christ can't hit a curveball?" "Major League" will make you laugh, become an Indians fan and have you buying a voodoo doll named Jobu.
4. Hoosiers: It may be the easy pick for the top five but "Hoosiers" is the best basketball movie ever made. That's not a hot-take, it's a fact. Gene Hackman plays Coach Norman Dale, a basketball coach for Hickory High School. Dale is an old-school no nonsense coach and his assistant is the town drunk who's looking for a second chance at life. Throughout this film, we see a team who's composed of only seven players turn into a force to be reckoned with and win the state championship. Gene Hackman had an iconic quote in this film: "If you put your effort and concentration into playing to your potential, to be the best that you can be, I don't care what the scoreboard says at the end of the game, in my book we're gonna be winners!" "Hoosiers" is a winner and deserves to be in this top five.
5.The Sandlot: Any kid growing up in the 90's watched this film enough times that the VHS tape wore out. The film struck a chord with me because these kids are having the time of their lives playing baseball in the summer and that's what I'd do growing up, too. The premise of this film is about Scotty Smalls joining this new group of friends who played baseball in the sandlot. After Scotty steals his stepdad's baseball signed by Babe Ruth, he hits it over the left field wall into Old Man Myrtle's property where his behemoth dogs collects the balls. The way that these friends accepted Scotty and did everything possible to get the ball is heartwarming. Everyone also wanted to be Squints Palledorous, who faked drowning in a pool to lock lips with Wendy Peffercorn. "The Sandlot" rounds out the top five because of it's solid story about friends playing baseball in the summer from lunchtime until the sun goes down.
Honorable Mention: Invincible
I had to give an honorable mention in this list because of the aforementioned plethora of sports movies. "Invincible" is based on a true story about Vince Papale, a bartender in Philadelphia who tries out for the Philadelphia Eagles and earns a spot on special teams. Mark Wahlberg stars as Papale and his solid acting shows us his frustration of losing his girlfriend, the struggle to keep up with the other players and how to persevere through adversity. My favorite scene in the movie is Papale playing a pickup game with his buddies in the rain, showing how he's not acting like an NFL player and just playing with friends. The soundtrack of all music from the 1970's is an added plus for this movie.
Any sports movie is a good sports movie and although I didn't name "Blue Chips" or "Karate Kid," I still consider those quality movies worth watching.
__
For more information or news tips, or if you see an error in this story or have any compliments or concerns, contact [email protected]