Recent tweet by UNF student goes viral
A recent tweet by a UNF student demonstrating the kindness of humanity went viral over the past week.
The student, Andrea Rojas, posted her tweet on July 28. The tweet told the story of Rojas and her two friends getting homemade food from an Uber driver, affectionately nicknamed "Mama Cathy." 
Rojas and her friends met Cathy on her very first night as an Uber driver. The friends told Cathy about how much they missed home cooked meals since they were away at college now. Cathy graciously offered to make them dinner, but Rojas didn't think she was being serious. Cathy dropped the friends off at their destination, and that was that.
Except it wasn't. As fate would have it, Rojas and her friends had Cathy as an Uber driver again a few weeks later. This time, Cathy would make sure they received their home cooked meal. 
Rojas and Cathy exchanged numbers and the next day, Cathy brought an entire feast of food to the girls' dorm rooms.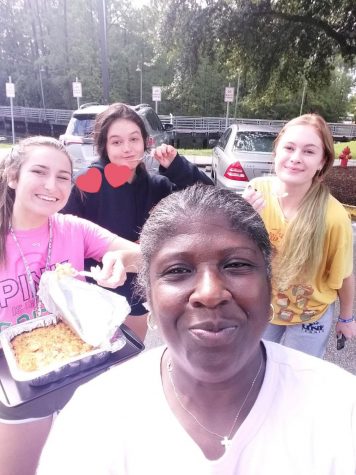 "We hung out for a while in the parking lot, and tasted the food together. And then we ate it," Rojas said. "Let me tell you, the best cornbread I have ever had." 
The four women were all smiles in the photos Rojas posted on her Twitter. Rojas thanked Cathy for everything, but Cathy assured her that Rojas needed to be thanked, too. 
"Thanks for a great day with great memories!" Cathy gushed in a text to Rojas. 
Uber has since shared the tweet, captioning it, "Dinner and a drive? Mama Cathy does it all."
__
For more information or news tips, or if you see an error in this story or have any compliments or concerns, contact [email protected]