Mario Kart Tour App Review
If you're a fan of Mario Kart on the GameCube, Wii, DS or any of the Nintendo gaming devices, you might be excited to hear that you can now take it on the go if you use iPhone. 
The new Mario Kart Tour game for iPhone was launched about a month ago and now has a rating of 4.8 out of 5 stars in the App Store. After being on the App Store for only a month, it's already ranked #1 in the action category of iPhone games.
I downloaded Mario Kart Tour as soon as I heard about it. I was skeptical of the game at first, just because iPhone games are usually hit-or-miss and Mario Kart is such a classic game that I didn't want the iPhone version to be horrible.
When I first launched the app, I was definitely impressed with the graphics. They're sharp and crisp just like the Wii and Nintendo Switch versions of the game. One thing about iPhone games I usually don't like is the launch time, but Mario Kart loads quickly and has no lag at all, although this could vary depending on which iPhone you're running the game on.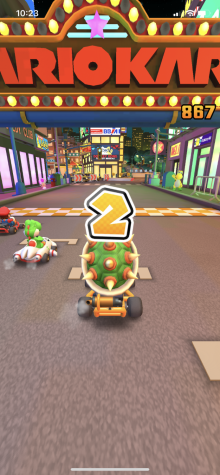 As far as gameplay goes, I have no complaints. The tracks are great. The steering and other controls are great. The game also includes all the classic items that you can shoot at other racers. A new aspect of the game I like is that you don't instantly have access to all the tracks, but instead, you have to unlock them by winning races. This gives users a goal to reach so they don't get bored easily.
Overall, Mario Kart Tour is definitely worth downloading, especially since its free. It's a go from me.
__
For more information or news tips, or if you see an error in this story or have any compliments or concerns, contact [email protected].