What is the Excess Credit Hours Surcharge?
Most students are aware that 120 credit hours are required to graduate with a Bachelor's degree. Within each program of study, there are more detailed requirements, but 120 credit hours is the universal graduation threshold. Most students are more concerned with getting to that magic number, but what happens if you go over?
If a student takes more than 120 credit hours, they incur an Excess Credit Hours Surcharge, depending on how many extra hours they have taken and barring certain exceptions. Why does this happen, and what is the purpose?
In 2009, the state of Florida established an Excess Credit Hours Surcharge to "encourage each undergraduate student who enrolls in a state university to complete the student's respective baccalaureate degree program in the most efficient way possible while providing for access to additional college coursework," according to the statute.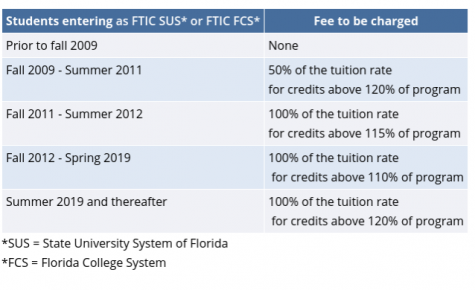 This means that if a student is taking extra credit hours outside of what is required for the degree, including failed courses or hours dropped after the designated add/drop period, there will be extra fees applied. For students who take credit hours above 120% of the number their program requires, they will be charged an additional 100% of tuition per credit hour. 
"The idea was that it would incentivize timely graduation," said UNF Registrar Chad Learch. "It was implemented in 2009, and it's been updated just about every single legislative year."
For students entering the Florida State University System or Florida College System in the summer of 2019 or later, the threshold was increased from credits above 110% of the program to 120%. 
"It's a political thing," said Learch. "Last year's legislative cycle raised the cap a little bit. We don't know why they decided to ease up on it. Maybe there were a lot of complaints from students. Maybe not. Maybe it fits a state government budget better for it to be a certain way."
The increases in the threshold are due in part to the efforts of state senators Aaron Bean and Amber Mariano, who have introduced bills over the last 2 years to raise the threshold to give students more flexibility. 
The surcharge also applies to courses that are failed, dropped after the designated add-drop period, withdrawn from, repeated, or transferred from a different university and applied to the degree. 
Courses that are exempt from this surcharge include courses taken through AP, Dual Enrollment, and other accelerated mechanisms, credit hours earned from internships, and courses taken by active military, among others. 
However, the effectiveness of policies of this nature is questionable. A study published in 2017 by the American Educational Research Association found, "evidence that ECH (Extra Credit Hours) policies positively affect student completion," and instead found "statistically large estimates that adoption of ECH policies increase median student debt."
"We're second in the state of Florida on students getting out with low excess credit hours," said Learch, quoting preliminary numbers for this academic year. "What I can't correlate is if that's a direct effect of the state statute or not. Maybe, maybe not. There's probably a lot of variability in that. We also just have really good students here."
The Board of Governors, who oversees Florida's 12 state universities, released data showing that 28% of undergraduate students were charged Excess Hours Fees during the 2015-2016 school year. At Florida A&M University, a staggering 72% of graduating students were charged the fee. 
"Our institutional reporting unit, every year, has to submit a file to the state of Florida spelling out exactly how many students graduated that year in excess hours, and that's 18.5% of all students, so it's actually a very small number of students who end up in excess hours to begin with," Learch commented. Of those 18.5% of students, not all are charged the fee, due to the various exemptions of the policy. 
Other states have adopted similar policies. In Virginia and Utah, for example, students accrue the surcharge for completing credit hours above 125% of the required hours for their program. In Massachusetts, the threshold is 118%. Other states who have implemented the surcharge include Texas, Arizona, and Wisconsin. Some states specify that the surcharge will be based on the out of state tuition rate, as well. 
"I expect there to continually be modifications to this," commented Learch. One thing he is adamant about– "It is incredibly complex" 
—
For more information or news tips, or if you see an error in this story or have any compliments or concerns, contact [email protected].