Students return to on campus housing, who will shoulder the cost?
As universities grapple with how to bring students back to campus housing, a rising tide of students and parents are concerned about the costs. 
In a statement sent out by the housing director to students who signed up for fall housing, it was stated that they "can't guarantee a Covid free campus," but states that if students "are unable to accept the terms of occupancy described in this letter you will have the opportunity to CANCEL your 2020-2021 Housing Contract without any financial penalty."
The statement outlines updated policies that will be in place for on campus housing which includes a lot of personal responsibility that will be placed on students.

Concerning the matter of occupancy period and contract sum, the email states that students will not be eligible for any refund of housing fees or dining plan fees. This contradicts the previous messaging that students will have an opportunity to cancel contracts without financial penalty if they are unwilling to accept the risks. 
"The contract sum you pay under your Housing Contract covers your occupancy in University Housing for the occupancy dates specified by the Department, whatever those dates turn out to be.  The contract sum is fixed, and neither you nor any other resident is entitled to reimbursement of any portion of the contract sum as the result of an "open" date that is later than the beginning of the semester term or a "closed" date that is earlier (even substantially earlier) than the end of the semester term, or as the result of any closing and re-opening within the semester term." 
We reached out to the Director of Housing and received no response for comment. 
Student organizations are already responding to these policy changes. From a recent statement made by the UNF branch of Students for  Democratic Society;

"Additionally, SDS firmly demands that UNF takes responsible action and eliminates the non-reimbursement rule for Housing and Meal memberships for Fall 2020/Spring 2021. UNF Housing stated, "the contract sum is fixed, and neither you nor any other resident is entitled to reimbursement." This demonstrates the University's values of not placing students first amidst a global pandemic. COVID-19 was, and is an unprecedented event; therefore, students should not be held to agreeing to this clause. Students could not have anticipated this happening, therefore, we should be reimbursed in full. UNF SDS demands UNF to convert the Housing contract to normal and to reimburse students in the event of any chaos, such as this global pandemic."
A representative from the SDS stated they have not gotten any formal response to their demands from UNF. 
Unwilling to take the risk of shouldering the full cost of housing with no promise of a refund should they be asked to leave due to Covid-19, students are looking for alternatives to on-campus living. 
According to the representative from the SDS, there are also those "who are taking fall off because they think it's unfair that students have to pay full price for distance learning classes without full access to on campus amenities." 
Full statement from SDS: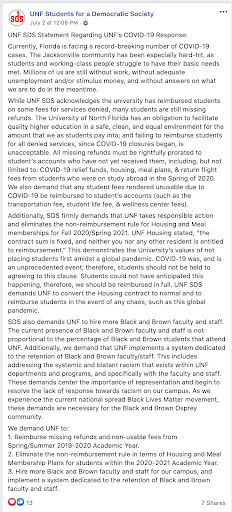 ___
For more information or news tips, or if you see an error in this story or have any compliments or concerns, contact [email protected].