See rare Neowise comet before it leaves for almost 7,000 years
Neowise is a rare comet that was located 194 million miles from the sun on March 27 of this year. The comet was named after the Near Earth Object Wide-field Infrared Survey Explorer, the mission that discovered it, and won't be back again for 6,800 years.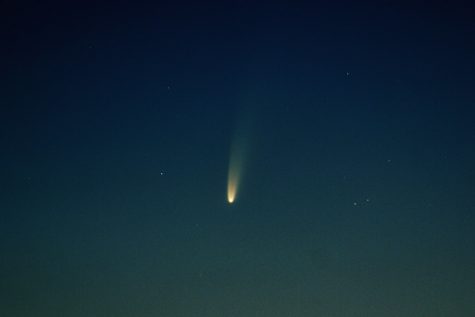 When it was found, the comet was only visible with large telescopes. As Neowise grew closer to the sun, gas and dust burst off its icy outermost layers, and created a tail bright enough to be seen from Earth, according to NASA. Despite being kissed by the sun, the comet survived and is now the third and brightest comet this year.
Neowise is visible to the naked eye, and can also be enjoyed even more with a nice pair of binoculars, or an average telescope. 
"In the morning sky, the first views of NEOWISE could come as early as July 5 or 6 in the morning sky, very low above the northeast horizon. […] it will gradually slide back down toward the north-northeast horizon, eventually disappearing from dawn visibility. A far-better viewing perspective will become available in the evening sky starting around July 12, when it will appear low in the northwest sky. In the evenings to follow, the comet will rapidly climb higher in the sky. On July 22, NEOWISE will make its closest approach to the Earth, a distance of 64 million miles (103 million km). By July 25, the comet will appear 30 degrees ("three fists") up from the west-northwest horizon as darkness falls," reported Space.com.
As it swooped away from the Sun on its latest flyby, @NASA's Parker Solar Probe was in the perfect position to snap this unique image of Comet NEOWISE >> https://t.co/9FburEZBC2 pic.twitter.com/xp4M9bPfxN

— NASA Marshall (@NASA_Marshall) July 13, 2020
☄️Skywatchers in the Northern Hemisphere with clear skies have a chance to catch a glimpse of Comet C/2020 F3 (NEOWISE). See when and where to look: https://t.co/LTXEpR0LjZ

☄️What is a comet, anyway? What do they look like up close? https://t.co/iNjHoHG59K#cometNEOWISE pic.twitter.com/vRNMIYVJHB

— NASA Solar System (@NASASolarSystem) July 10, 2020
Neowise will cross out of Earth's orbit by mid-August. Don't let this once in a life-time opportunity fly by.
__
For more information or news tips, or if you see an error in this story or have any compliments or concerns, contact [email protected].