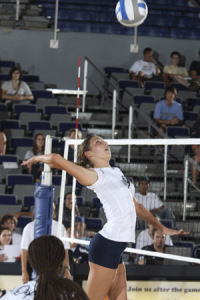 The UNF volleyball team (8-14, 2-6 Atlantic Sun) went through another tough weekend, losing to both Belmont and Lipscomb. The first game pitted the Ospreys against the Belmont Bruins (14-7, 5-1 A-Sun) Oct. 16.
The Ospreys won an electric first set 27-25. However, the Bruins would bounce back in set two, claiming a 25-21 win and quieting the crowd. Set three did not go as planned — the Bruins raced out to an early 15-8 lead, and despite UNF drawing close on several occasions, the Bruins won the set with two kills by Maggie Johnson.
Johnson led the Bruins with a match-high 18 kills. Paige Pridgeon recorded her 11th double-double of the season with 11 kills and 15 digs.
Set four began with UNF taking a five-point lead early on, but eventually the Bruins claimed a 21-16 lead. The Ospreys closed in off of a pair of kills by Carolyn Jenkins, but the Bruins would claim the set 25-21 and win the game.
Despite the loss, the team was optimistic following the game's conclusion.
"We're really gaining confidence with our aggressive play," said head coach Kevin
Campbell. "Had we served conservatively, we wouldn't have been able to handle their multi-player offense."
The fans played a key role for players and coach alike.
"The fans really pumped us up tonight, they were amazing," said outside hitter Julie
Trembley.
Casey Giovanazzi said "We've got to kill 'em," in reaction to what they have to do to future opponents.
The UNF volleyball team would have that opportunity Oct. 15 when it took on the Atlantic Sun-leading Lipscomb Lady Bisons (13-6, 7-0 A-Sun).
Lipscomb managed to defeat the Ospreys in straight sets (14-25, 20-25, 15-25). Paige Pridgeon
had a team-high seven kills, and Nicole Baran led the Ospreys with 14 digs.
The volleyball team has lost five straight games. But the team insists it is playing well, and coach Campbell stresses the importance of pulling positives from every game, losses included.
The team wants the fans to continue to support it like they did over the weekend. The support was noticeably bigger than previous games, and the noise level increased, as well.
"The crowd definitely pumps us up, so much. That's the kind of crowds we encounter a lot on the road, and I definitely think our crowd affected the other team," said Casey Giovanazzi.
Upcoming Games:
Oct. 18 at Bethune-Cookman at 6 p.m.
Oct. 21 vs. Jacksonville 7 p.m.
Oct. 22 vs. Florida A&M 6 p.m.