New self-service kiosks launch at many on-campus dining locations
Students at the University of North Florida (UNF) are in for a treat with the addition of self-checkout kiosks at the start of the spring semester. A year in the making, the new customer-driven system has been applied to most dining locations on campus. 
UNF Dining Services revealed the new addition at the start of the spring semester, allowing for self-service at many on-campus locations. The old system, which depended on a dedicated cashier, was in desperate need of an upgrade, according to Joe Lachina, the resident district manager of UNF Dining Services. 
Costs are still being assessed, but it was "a significant investment in Dining Services," said Lachina. 
Though it may seem as if these new kiosks just appeared overnight, some staff had been installing and working out the kinks over winter break. Still, many had no idea what was in store.
"I knew that there was going to possibly be a new system, but I did not think that meant that there was going to be a self-checkout," Emily Saidat, a UNF Dining Services employee at the Market, said. "I walked in and said, 'What's going on,' and I didn't really know what was happening."
After a brief learning period, Saidat said the new system is working great and has the potential to shorten wait times immensely. Decreasing lines and increasing efficiency was a major driving force behind the change as Dining Services works its way toward the future of food service.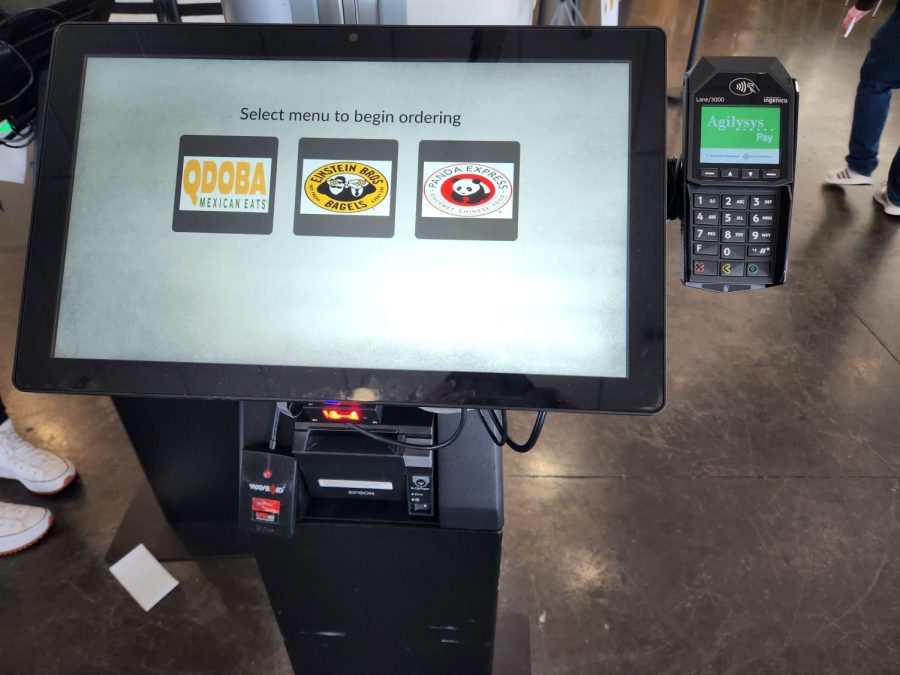 Director of Marketing and Guest Experience Dennis Negrin said that based on feedback from faculty and staff, things are moving a lot faster. Although employees are no longer working at the cash register as often, double the work is getting done, he said. 
With the new system, "we get to repurpose that labor and have more people in the back," cooking and preparing orders for the guests, Negrin explained. 
UNF Dining Services campaigned heavily for job opportunities in the fall semester and even with the new addition, job opportunities are still readily available. It has created more jobs as teams from all over the university have made this possible, said Negrin.
With these self-service kiosks, more staff is needed behind the scenes and on the floor to elevate the guest experience. Negrin said production in the back has doubled, and technology assistants have been working with Dining Services to provide a seamless dining experience. 
Along with the new point-of-sale system at every location, self-checkout options are available everywhere except Starbucks as of right now. Lachina said that UNF might see self-checkout for Starbucks soon, as UNF Dining Services works with the company to make it available with the Starbucks app.
___
For more information or news tips, or if you see an error in this story or have any compliments or concerns, contact [email protected].