Chief diversity officer delivers message of honesty and support to UNF Senate
One day after a fiery town hall meeting between University of North Florida President Moez Limayem and students, Chief Diversity Officer Dr. Richmond Wynn delivered a message of honesty, support and respect to Student Government's Senate Friday afternoon. 
Whereas yesterday's meeting left many students feeling unheard, outraged and uncertain about Limayem's answers to their questions, Dr. Wynn offered more clarification to senators on the third floor of the Student Union.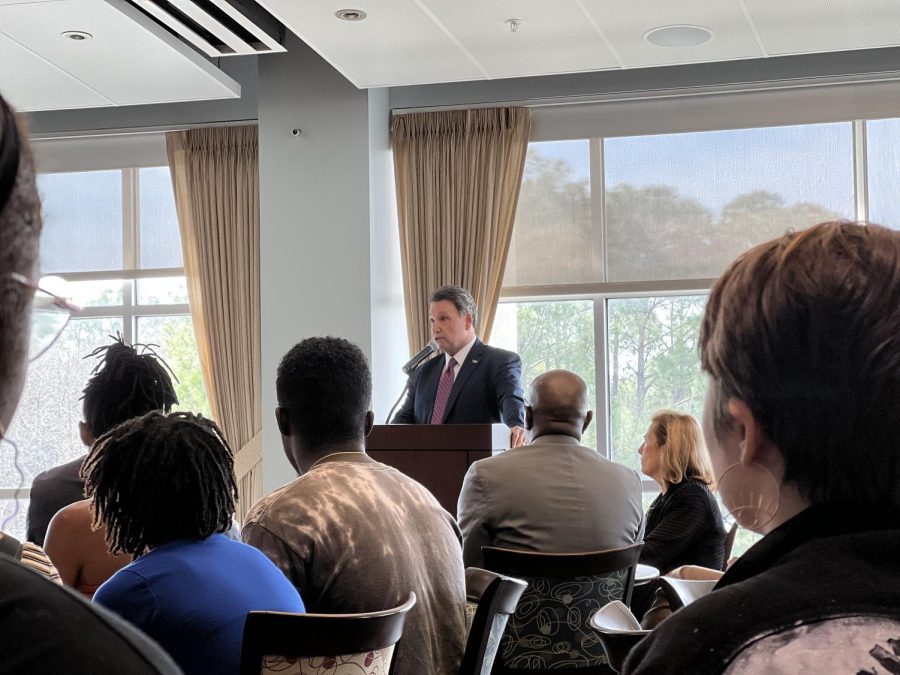 Student Body President Nathaniel Rodefer, who said he wouldn't "beat around the bush" about the issue, asked what Dr. Wynn would tell university community members who don't feel UNF is the place for them because of what's happening in Florida. 
"There are a lot of things that we don't know today, and we are having conversations about possibilities," Dr. Wynn said. "For those of you that attended the town hall yesterday, the president did not, initially, want to say a lot about what some of those possibilities are. He eventually did share some."
He acknowledged that it may be challenging for students to hear the president because everyone wants answers right now, but "the fact is, we just don't know yet."
Senator Lissie Morales, the current president of Students for a Democratic Society, asked whether Limayem will continue to commit to engaging in DEI or stay compliant with the law. 
Dr. Wynn said he is confident in supporting the president's statement of commitment to diversity and inclusion on Thursday.
He said that the university must discern what to do first because "we don't want [President Limayem] to break the law."
Recently passing his first anniversary as UNF's chief diversity officer, Dr. Wynn said he has wrestled with recent events in Florida. 
Namely, he is frustrated about the filing of House Bill 999 on Tuesday which, if passed, would ban spending on activities that promote DEI in higher education, among other changes. 
"I'll be honest. I'm very frustrated. I'm angry about that," he said. "My life's work has been committed to diversity, equity and inclusion and I love those words."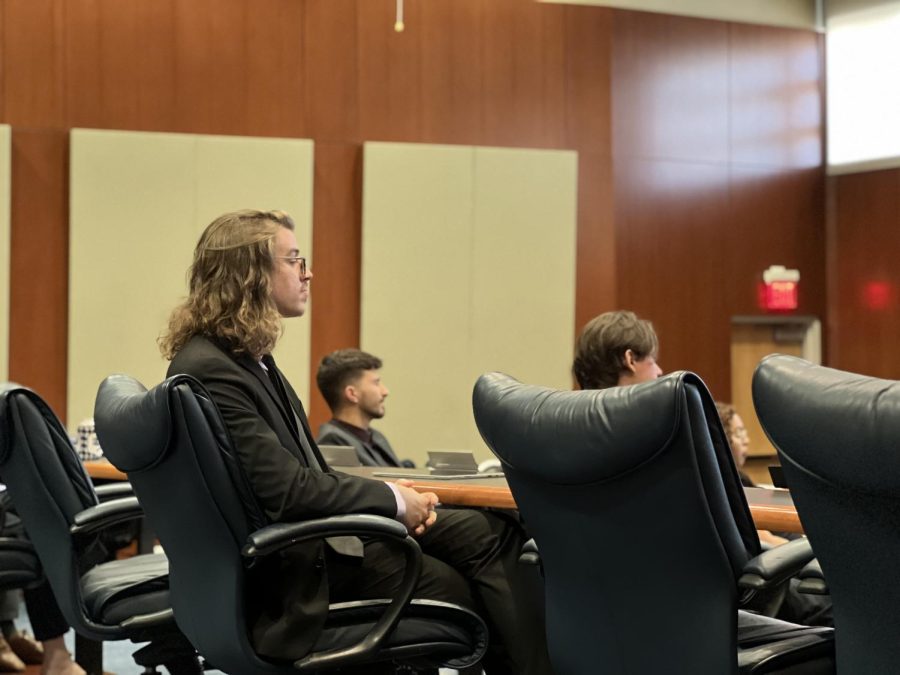 While there are many unknowns and unanswered questions, Dr. Wynn noted that this is a time for the university and its community to look at possible solutions. 
"There is an opportunity for us now to be thinking creatively how to continue to provide education, provide support, provide resources to continue to make UNF a place where everyone feels welcome," he told the Senate. 
Updates from the Senate
Later in the meeting, Student Body President Rodefer gave a report discussing the new redesign of the Boathouse and the installation of new study rooms in the library. He further explained that he wants the Boathouse to be not only a food location but also an event space. 
Those upcoming projects are expected to be completed by July 23. The budget allocated for these two projects was $2 million.
The University and Student Affairs Chair Alondra Soledad Vega explained the results of February's Osprey Voice which sought to gauge the university community's opinions about diversity, equity and inclusion.
Of the 782 students who participated, 52% had taken a course that falls under DEI, and the majority of those students stated they found those courses valuable. 
Eighty percent of participants strongly approved or somewhat approved of these courses being offered at UNF and 80% strongly disagreed or disagreed with removing DEI coursework and programming.
About halfway through the meeting, Senate President Pro Tempore Emily Sullivan presented JR-23S-3665, which would give students two mental health days a semester. 
On those days, all UNF professors would not be permitted to hold classes or have any assignments due. There was zero opposition and it was forwarded.
Closing out the meeting, Senator Drum was sworn into the Parliamentarian position with zero opposition.
___
For more information or news tips, or if you see an error in this story or have any compliments or concerns, contact [email protected].