Judicial complaint against Soar Party chair leaves UNF election frozen
A judicial complaint filed against Soar Party chair Emily Sullivan Wednesday leaves the University of North Florida's election invalid until it's resolved. Running uncontested, Sullivan is the student body vice-president elect. 
The complaint alleges that Sullivan, who is responsible for the Soar Party, broke five rules ranging from how the party uses Instagram to the party's name.
The author of the complaint letter, whose name was redacted, wrote that Sullivan allegedly violated Title VI of Student Government's Election Code. SG's code section states, "No person shall misrepresent any material facts through any campaign materials or actions."
In Sep. 2021, Soar made an Instagram post with statistics illustrating how comfortable UNF students are with using AEDs, citing "results of survey taken by UNF students." The complaint alleges that Soar misrepresented the facts by not disclosing where the data was specifically from. View the cited Instagram post in the slideshow below.
"Soar does not state where these come from, just that it is the results of a survey taken by students," the complainant wrote. "Furthermore, the UNF Soar with the subheading (survey taken by UNF students) leads one to believe that the survey was conducted by the Soar Party."
Citing another Soar post made on March 1 that outlined Sullivan's background and leadership positions, the complainant alleges that it's misleading. The positions were all written in the present tense when they needed to be written in the past tense because they were held by Sullivan in the past, the complainant alleged in the letter. 
"There exists a need to label positions that are no longer being held as former," they wrote. View the cited Instagram post in the slideshow above. 
Social media as "passive campaigning"
The Office of Election's Policies and Procedures states that the names of political parties cannot give the impression of university endorsement or use official university language. 
The complainant alleges that because UNF uses the 'SOAR' multiple times—for example with the College of Education's SOAR mental health program—"it is clear how this could be seen as official University language, and potentially as endorsement."
The Soar Party is not new to UNF, and Chief Justice Ashley Mason and Deputy Chief Justice Travis Ford told Spinnaker that a charge like this has not been brought up against this specific Soar Party. 
Section IX of the Office of Election's Policies and Procedures states that campaigns are responsible for removing all campaign-related materials, including official social media posts, within one business day after the end of an election. It also states that campaigning can begin the day of the election's fair. 
"Soar party, under the leadership of Sullivan, have violated this numerous times," the complainant alleges, "having their social media posts exist in the summer semesters after the close of an election and before the election period had started, as well as being active prior to this election."
This semester's election fair was on Feb. 1, so the Soar Party's first Instagram post for this election cycle was about the elections fair and was made that day. There are other posts from past elections on their Instagram that were published between Sep. 2021 and Oct. 2022. 
Soar's posts during that timeframe lay out a few of their initiatives, the responsibilities of a senator and information about their party. See their Instagram here.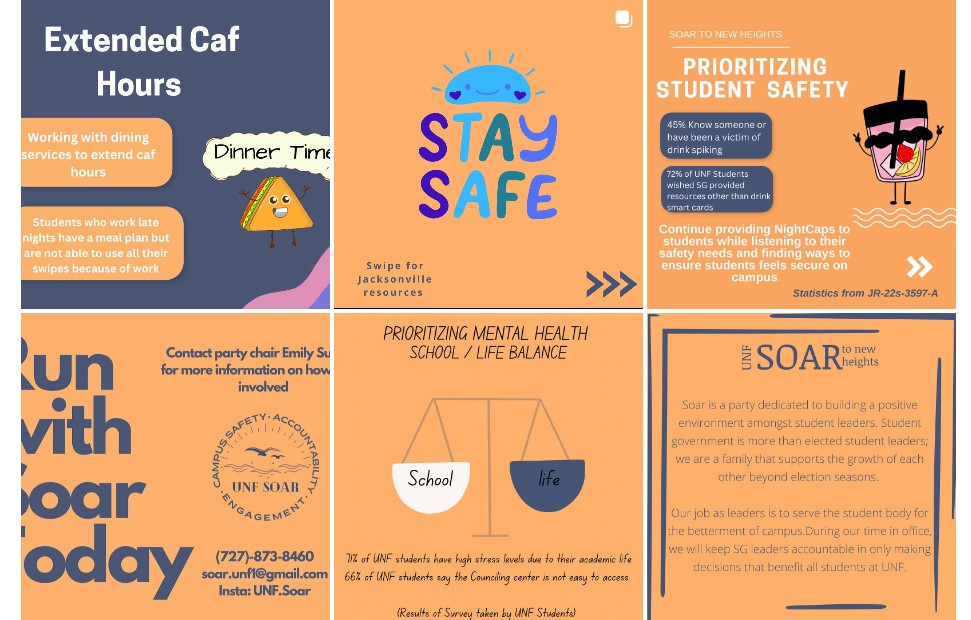 Though no complaints have been made against the Unity Party, which has Senate candidates running against Soar Party, they also have existing posts from earlier than Feb. 1 of this election cycle. Their posts outline some of their initiatives, pillars and introduce their party chairs, and the earliest post was made on Sep. 13, 2022. See Unity's Instagram here. 
The complainant explains in their letter that social media is considered "passive campaigning" and that some of Soar's posts containing campaign materials were not deleted.
"We must keep in mind that Social media is considered passive campaigning," the complainant wrote. "Having Social media posts up following the closure of an election would also constitute a violation of this section. Keep in mind that it is a violation of both sections, not just one."
What's next? 
The election cannot be verified next Friday during full Senate because the Validation Bill "has been frozen" until all Judicial election business is completed, Deputy Chief Justice Ford wrote in a Wednesday afternoon email.
A public hearing regarding these violations will be held next Wednesday, March 29, at 3 p.m. It will be in the courtroom in the Student Union (Building 58E, Room 3314). Sullivan declined to comment on the judicial complaint made against her. 
View the complaint in full here. 
___
For more information or news tips, or if you see an error in this story or have any compliments or concerns, contact [email protected].