UNF reassigns MedNexus CEO; gives him year of paid leave to find new job, documents reveal
A few months away from his two-year anniversary of becoming MedNexus's CEO, documents acquired by Spinnaker reveal that Dr. David Szymanski's last day in that role was April 30. 
The former CEO is now a tenured professor and has a year to find a new job before his university employment ends, according to a reassignment agreement signed by Szymanski and President Moez Limayem. 
On Feb. 28, Limayem wrote a letter to Szymanski that said he had 60 days before his term as MedNexus's CEO would end.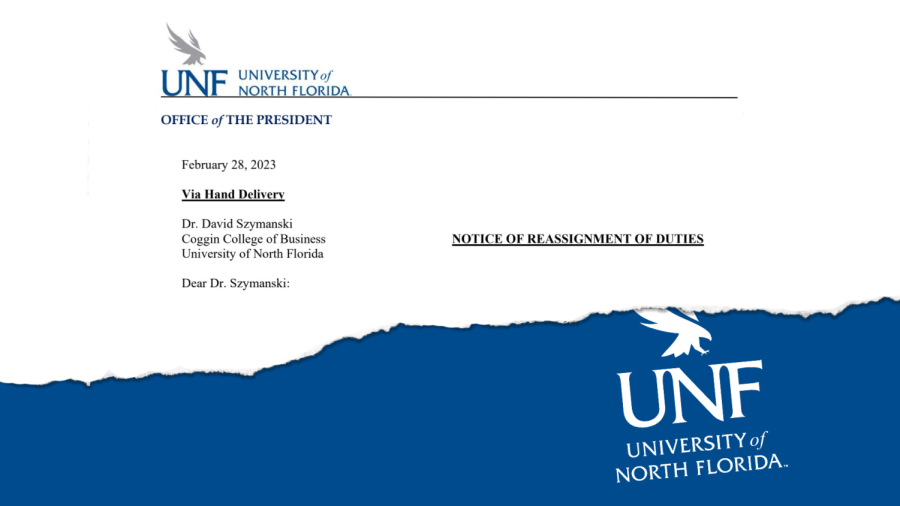 After that time passed, the letter outlined that he would return to the Coggin College of Business as a tenured professor of marketing. View Limayem's full letter to Szymanski here. 
"Thank you for the support you provided to UNF MEDNexus," Limayem wrote. "I look forward to your continued contributions to the University in your faculty role." 
Limayem's letter said Szymanski would teach two courses during the summer semester, but that assignment has since been changed. 
In mid-March, the university and Szymanski signed an agreement about his reassignment which, among other things, said that the now-former CEO would be granted professional development leave from May 1, 2023, through April 30, 2024. 
The agreement also said he would be paid his annual salary during that time, which UNF told Spinnaker is $413,250.
Szymanski will continue to be employed and paid by UNF until that year is up or until he accepts full-time employment elsewhere, whichever comes first, according to the document.
"If Dr. Szymanski obtains full-time employment outside of the University prior to April 30, 2024, Dr. Szymanski will notify the University," the agreement reads. "The University's payment and benefit obligations shall cease on the first day of such outside full-time employment."
According to the agreement, Szymanski is now considered a "12-month, tenured, full professor of marketing." View the entire document here. 
MedNexus left CEO-less
Developed in 2020, MedNexus is a UNF effort to link healthcare resources "across county lines in a collaborative effort to expand educational programs and enhance medical research," according to its website. 
The university-proposed project was advertised as one that would address Florida's growing healthcare needs while providing a pathway for students to find jobs by partnering with local providers and leaders.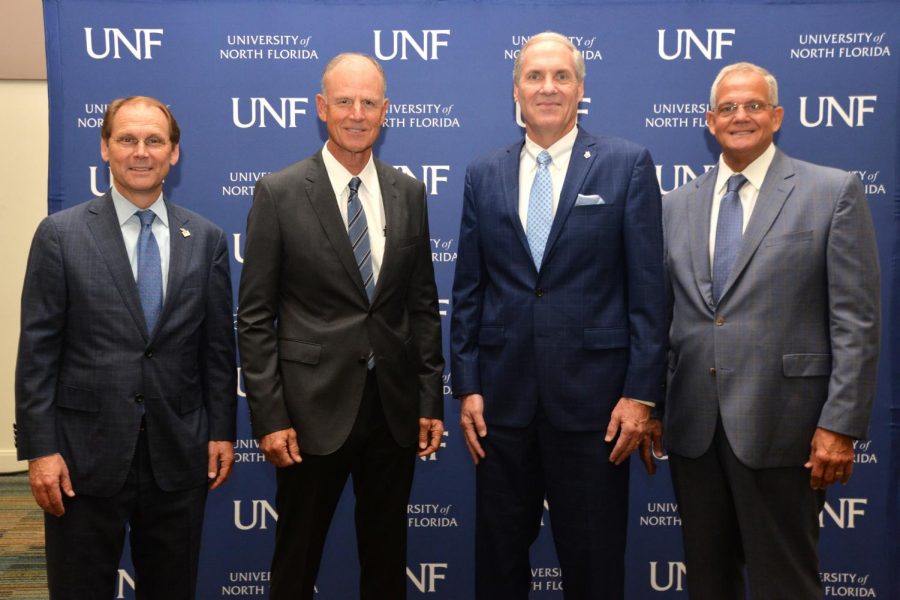 After spending three years as the university's sixth president, Szymanski was named CEO and executive director of MedNexus in 2021. With this development, UNF told Spinnaker that the healthcare organization now operates without a CEO or interim CEO.
Because MedNexus is a "collaborative initiative," UNF said, "several areas of the university are working together to find creative ways to address healthcare needs." 
The dean of the Coggin College of Business is overseeing the partnerships and entrepreneurial efforts of MedNexus, and the dean of the Brooks College of Health is in charge of the nursing component — the simulation center, some nursing courses and nursing scholarships — a UNF spokesperson explained. 
Spinnaker requested a comment from the university about this change, and they gave the following statement: 
"As we move forward, the University is reviewing MedNexus to ensure we continue to effectively meet the staffing and innovation needs of our healthcare community."
When asked whether it was Szymanski's choice to leave or Limayem's choice to reassign him from MedNexus, a UNF spokesperson responded that the university does not comment on personnel matters. 
Spinnaker requested a comment from Szymanski by email and by phone on Friday, May 12, but did not receive a response by publication on Monday.
_____
For more information or news tips, or if you see an error in this story or have any compliments or concerns, contact [email protected].