Florida public universities barred from spending state, federal funds on DEI programs under new law
Gov. Ron DeSantis fulfilled his January pledge to defund all diversity, equity and inclusion programs in Florida public universities and colleges as he signed SB 266 into law on Monday.
The signing, which happened at New College of Florida, checks off another box in DeSantis's figurative list that outlines his war on "woke." Waging a multi-month campaign to curb diversity efforts in state education, this new law will join others that were pushed through the Republican-dominated Florida legislature two weeks ago. 
SB 266 prevents Florida's 12 public universities from using any state or federal funding to promote, support or maintain any programs or campus activities that advocate for DEI or engage in "political or social activism," according to the bill. 
It also institutes new requirements for general education courses that are usually part of a required curriculum for students.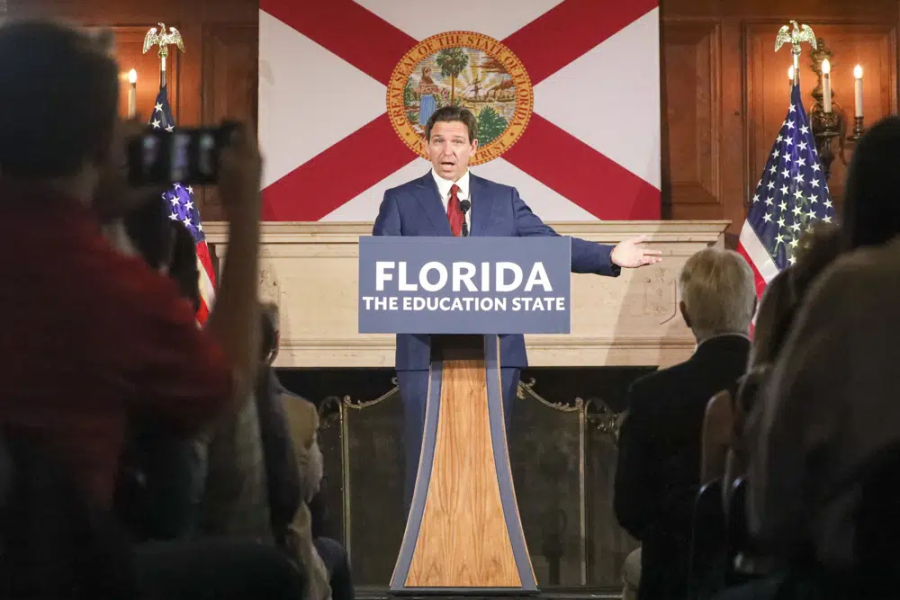 General education courses may not "distort significant historical events" or include a curriculum that teaches "identity politics" or "is based on theories that systemic racism, sexism, oppression, or privilege are inherent in the institutions of the United States and were created to maintain social, political, or economic inequities," the law states. 
Among other new requirements, SB 266 also reshapes faculty hiring and retention processes. There will be a new post-tenure review process for faculty and the law gives each university president the duty to hire the provost, deans and full-time faculty. 
DeSantis first introduced a version of this bill in early 2023 which, at the time, was just the point of a spear. Now, it's part of a comprehensive effort seeking to reshape higher education. 
"In reality what this concept of DEI has been is to attempt to impose orthodoxy on the university," DeSantis said at the bill signing ceremony. "This has basically been used as a veneer to impose an ideological agenda, and that is wrong."
An uncertain future
The governor also signed HB 931 and SB 240 into law alongside SB 266 on Monday. 
HB 931 focuses on establishing an annual intellectual freedom and viewpoint diversity survey and regular university-sponsored debates and group forums. SB 240 is concerned with supporting career and technical education pathways for students, plus other additions. 
Spinnaker requested a statement from the University of North Florida about the signing of SB 266 and was told Monday there were no updates to the statement from last week when the bill was sent to DeSantis's desk.
"The University is reviewing the language of the recently passed legislation to determine the impacts to the campus community," a UNF spokesperson told Spinnaker on May 3.
Stay with Spinnaker as we work on unpacking what these newly signed laws will mean for Florida education.
_____
For more information or news tips, or if you see an error in this story or have any compliments or concerns, contact [email protected].