Rumors turn to reality as DeSantis files paperwork in a bid for president
Florida Gov. Ron DeSantis has thrown his hat in the ring and officially launched his campaign for the 2024 presidential election as he filed paperwork with the Federal Elections Commission on Wednesday.
The 44-year-old governor of the Sunshine State won his second term as Florida's governor last year, beating out Democrat Charlie Crist by over 10%. Since then, his name has been in headlines nationwide as he wages war on "woke" and pushed for legislation reshaping everything from education to LGBTQ+ rights and immigration policies. 
The filing of paperwork with the FEC — which created the "Ron DeSantis for President committee" — confirms a months-long rumor that the Florida governor was joining the race. 
He is expected to officially announce his candidacy Wednesday night on Twitter, alongside Twitter CEO Elon Musk, the Associated Press reported Tuesday. DeSantis will join an already crowded race for the 2024 GOP presidential nomination. 
The Florida governor has turned the southern swing state a strong shade of red as he takes a definitively conservative stance on many controversies.
In April, DeSantis signed a 6-week abortion ban, which is before most women realize they're pregnant. In a post-Roe v. Wade world, the ban changed abortion access in the South as the procedure is banned or restricted in many Southern states. 
Last week, DeSantis signed a package of bills into law that outlaws gender-affirming care for minors and placed new restrictions on adults seeking similar care. Funding for diversity, equity and inclusion in the state's public colleges and universities is now banned under another new law. 
Civil rights groups nationwide have rung alarm bells in the wake of these signings, warning Americans about the new laws. The NAACP has also issued a travel advisory for Florida.
"Florida is openly hostile toward African Americans, people of color and LGBTQ+ individuals," the organization wrote.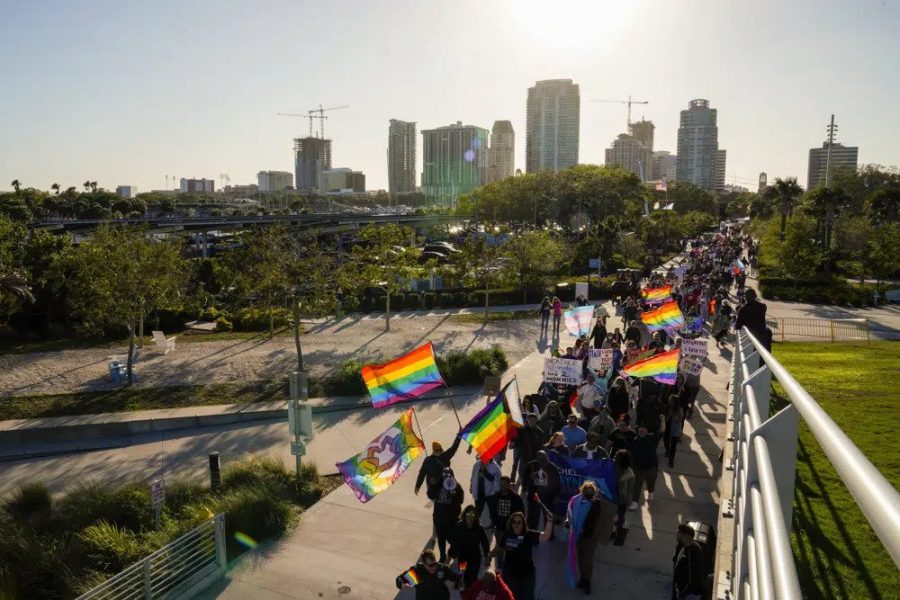 A University of North Florida poll in early March reported the opposite. DeSantis led with 52% of respondents, followed in a distant second by Trump with 27%, UNF's Public Opinion Research Lab reported. 
For the PORL poll, 1,452 registered Republican voters in Florida were asked to choose between 10 candidates for the 2024 Republican presidential primary. 
"It's not too surprising to see DeSantis take the lead among Republicans in his home state of Florida," said Mike Binder, PORL faculty director and UNF professor of political science. 
Though DeSantis has been recently seen as potential competition to the former U.S. president, other polling nationwide reports suggest otherwise. 
A CBS News-YouGov poll of Republican primary voters released May 2 found that Trump led a hypothetical GOP primary race with 58% of the vote. DeSantis followed in second with 22%.
An official announcement is expected to be coming soon and DeSantis will soon see whether being at the forefront of culture war issues is enough to sway voters to his side.
___
For more information or news tips, or if you see an error in this story or have any compliments or concerns, contact [email protected].