Ospreys defeat Gators in front of 3,194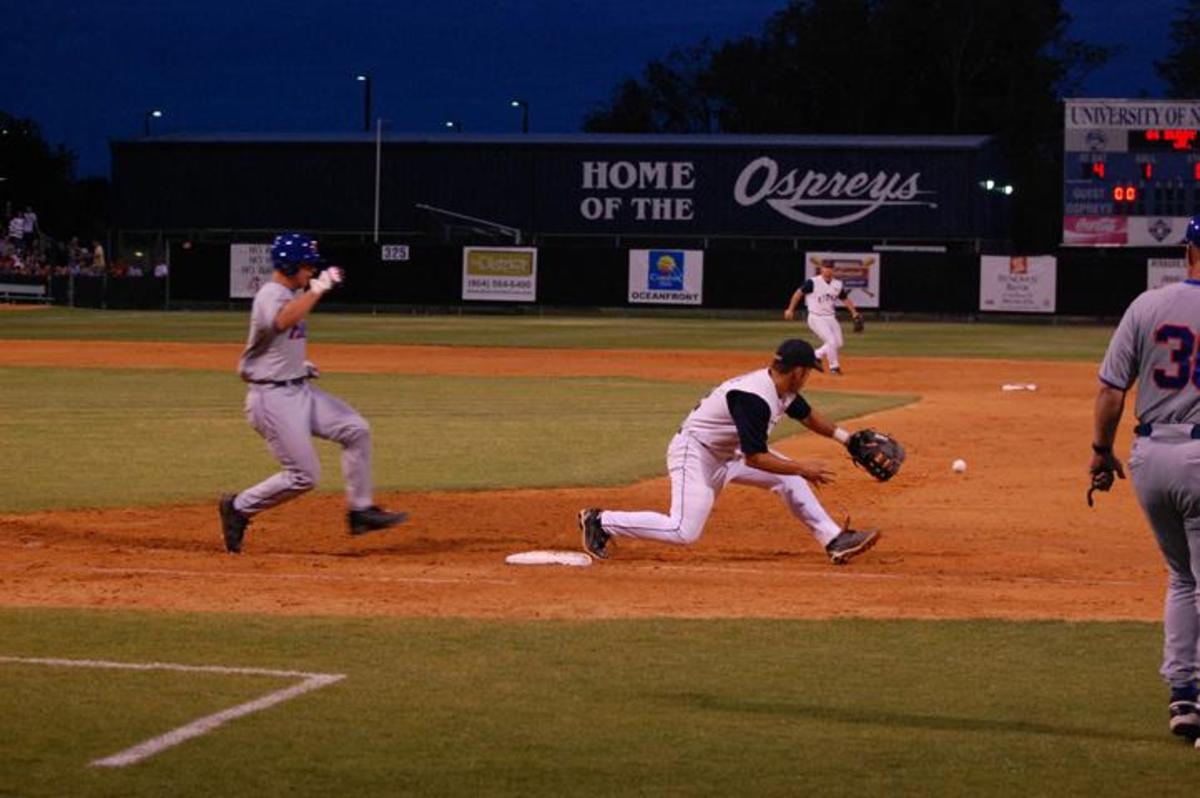 The UNF baseball team beat the University of Florida Gators 3-0 March 24 in the first match-up at Harmon Stadium.
In a game that could have gone either way, the Ospreys beat the No. 23-seated Gators with enough endurance to survive a majority scoreless game and keep fans excited from start to finish.
Harmon Stadium was packed with a record-breaking 3,194 fans, accommodating people out in left field and standing in the entryway just to watch this historic event.
"Anytime you can play the Gators and beat them with a packed home stadium is amazing," head coach Dusty Rhodes said. "This was a good win for us, for the school and for the student body."
The game started with a first pitch thrown by Jacksonville Jaguars Rashean Mathis and Daryl Smith, and the first hit by UNF was from Smith out into right field to take first base, which got the fans cheering.
Junior Michael Kelly was the left-handed pitcher who kept the Ospreys in the game throwing strikeouts in the second inning including a hit that came right toward him. He threw the ball to first base to force out Clayton Pisani, a second baseman for the Gators, but the first and third innings proved difficult for Kelly as he walked a majority of the UF players, struggling to find the strike zone with his pitches.
The Gators had no hits at the end of the third inning, and the game remained scoreless for both teams with the Ospreys holding only one hit.
At the top of the fourth, the Gators put more pressure on the Ospreys having a man on first and third, but it wasn't enough to hold down UNF as Kelly struck out Jerico Weitzel for their third out of the inning.
"It felt good to keep the Gators from scoring," Kelly said. "It was a tremendous opportunity. I was blessed to play in this game, and we have a lot of confidence now for the next one."
Kelly was later replaced by right-handed pitcher Antonio Franzese in the fifth inning, who kept the Gators from scoring zero runs for the remainder of the game. Going into the seventh inning with no hits, no runs and no errors, Franzese pitched against the Gators' third baseman Jerico Weitzel for a strikeout.
It wasn't until the bottom of the eighth inning that UNF made a play for the lead.
Freshman pinch-runner Steve Hillan received the first run of the night followed by a hit from junior right fielder Preston Hale that went in between two Gators out in left field. The hit allowed UNF outfielders Michael Smith and Brian Wilson to consecutively score.
"I thought it was a well-played game on both sides," said UF head coach Kevin O'Sullivan. "We just couldn't catch a hit in the eighth inning. It was a hard game tonight, but we're looking forward to playing them again."
E-mail Heather Furey at [email protected]