Students and residents living in the Flats at Kernan have been complaining about the living conditions of the complex, citing bug infestations as the major problem.
The Flats, just a short bus ride away from UNF's campus and adjacent to Alumni Hall, are decorated as luxury student apartments, but are becoming a haven for gnats, roaches, spiders and even stray cats, student residents and Flats employees said.
Mmachi Nwoga, a leasing consultant for the Flats, said the complex uses Armor Pest Control services and has an exterminator come every Monday.
Ana Castro, a UNF engineering major, has been living in the Flats at Kernan for nearly a year and said she has problems quite often.
"Last year, I had German cockroaches all over my apartment," she said. "I also had fleas because some people had pets here."
Castro said she confronted maintenance about her situation, but it was unable to resolve the problem. After three visits from an exterminator, the bugs persistently came back.
Nwoga said the post-storm weather and humidity from Tropical Storm Debbie may be attracting the smaller insects, like gnats and mosquitoes, but said many of the bug problems are due to the location of the unit and the habits of the residents.
Betty Wooden, a UNF business junior, said she tries to warn people about the Flats' problems by posting her horrible experiences on every review site she can find.
Wooden, who lives on the first floor, said she also gets German cockroaches.
"They think we're just students who don't give a shit," Wooden said. "I'm a very clean person — not just some raging college student."
Rashed Alsamahi, a UNF sophomore from Dubai, said he has been living in the Flats for two semesters and has a bug problem, as well, including mosquitoes and occasional cockroaches.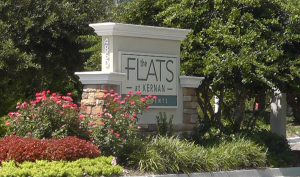 Nwoga said the majority of bug reports come from students on the first floor, and all resident complaints are recorded and promptly addressed.
Alsamahi lives on the second floor and said maintenance brought an exterminator, but shortly afterward, the bugs returned.
Castro, who had been living on the first floor, finally asked to switch to a new apartment on the third floor. Since moving a couple months ago, she said she hasn't had anymore problems.
Jesse Grandinetti, a UNF psychology junior, is moving out of the Flats in August when his lease is up.
Grandinetti lives on the first floor and said he has had numerous occasions of cockroaches and fleas.
Wooden said stray cats are also a problem within the complex. One evening, Grandinetti said he saw feral cats playing with a dead rat.
"Every apartment, even those without pets, has fleas," Grandinetti said. "It's gotta be from the feral cats."
Gnats and roaches can accumulate around dirty dishes and unclean conditions. Nwoga said spiders are commonly found in the units adjacent to the woods.
"The exterminator comes out regardless of there being a problem," Nwoga said. "It's more a preventative effort for the students."
Paul Pratt, a UNF communication sophomore, said he has been scouting new apartments for when his lease is up in August.
Pratt said he hasn't had too many problems, aside from the paper-thin walls and occasional cockroaches.
"I've been lucky," Pratt said. "A lot of my friends seem to be having a hard time."
Both Castro and Alsamahi said, despite the other problems, they enjoy the apartments' amenities, like the basketball court and the resort-style pool.
Castro also admired the location's proximity to campus and convenient shuttle system.