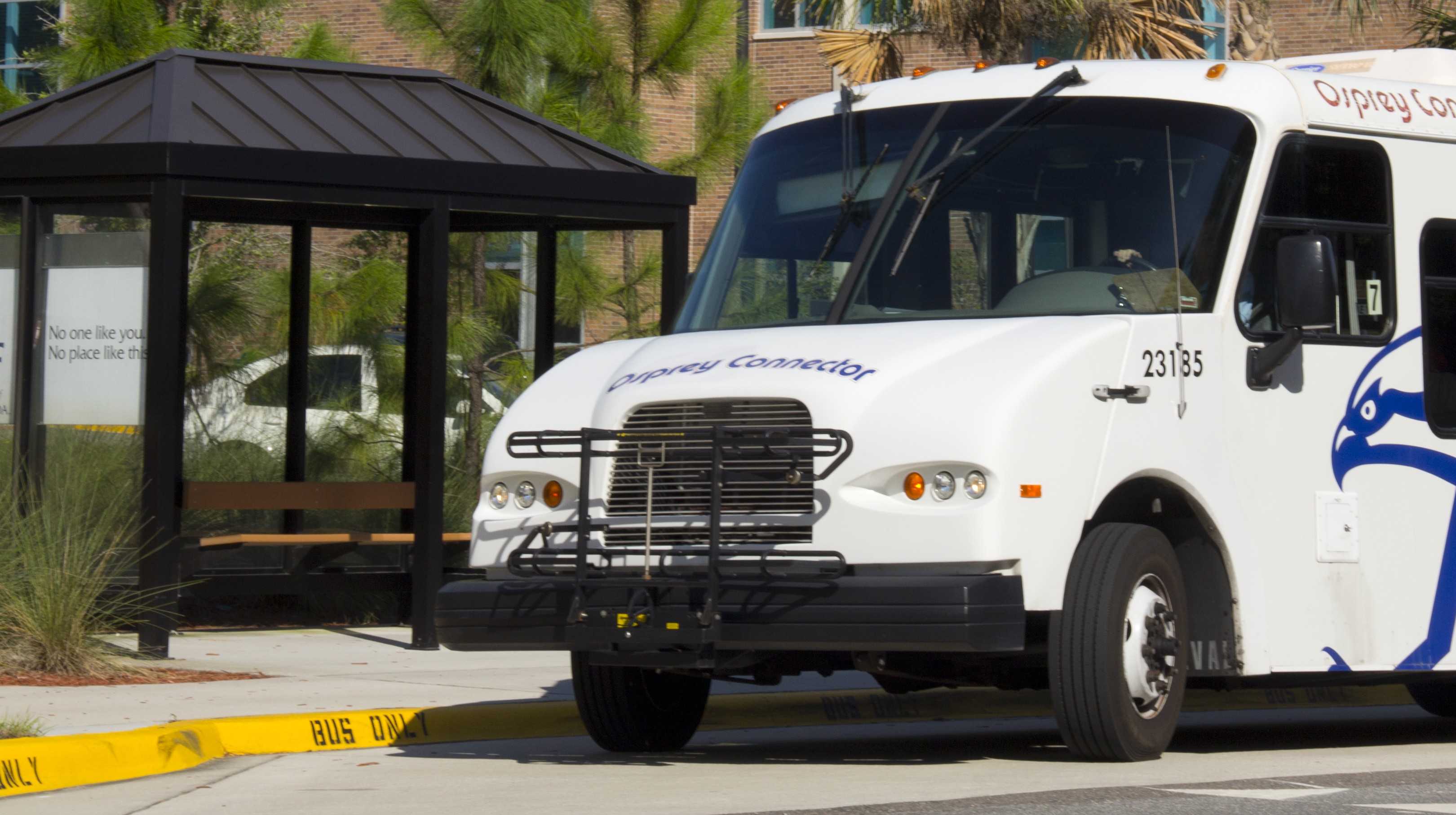 The big changes in the Osprey Connector shuttle routes from Summer B to the first day of fall left confused students to find their own route to and from class.
UNF had north and south routes for the main campus in previous semesters that have now been combined into one that takes students cross-campus, from Lot 18 to UNF Hall and back.
The combined route uses the new North Entrance Road that goes behind Harmon Baseball Stadium and no longer uses the North-South Road adjacent to Lot 14.
Student Government Treasurer William Namen said the new entrance is much faster than the previous system. He estimated the cost of the road at around $685,000.
The shuttle's second route is designed to take students from the Library to the St. Johns Town Center.
Michael Schmitt, a UNF graphic design sophomore, said he is upset there is no longer transit between the campus parking lots and the Library.
"Where are all the shuttles?" Schmitt said.
Schmitt lives in Osprey Hall. He said the routes are good for getting from the dorms to the parking lots, but getting to class quickly is no longer an option.
Schmitt said petitions with Student Government letterheads have been appearing around the Osprey Fountains in an attempt to change the shuttle routes.
Student Advocate Sergio Saavedra said a student initiated the petition. He said SG will be meeting this week to evaluate the issue and try to find a solution.
The new system started Aug. 19 with help from Vince Smyth, director of auxiliary services for UNF. Smyth said the routes were part of the 2010 plan to increase efficiency to and from the outer lots.
He said his department's transportation consultant, who originally set up the 2007 shuttle system, agreed to the new routes. The program was implemented once SG and university executives approved.
SG initially approached UNF Auxiliary Services about finding a way to shuttle students to the Town Center from the university "and not the other way around," Smyth said.
Kate Janais, a UNF alumna, took the shuttle to UNF from the Town Center to meet her friend, Alessandra Coche, a UNF advertising senior.
Smyth said there could be a problem if students begin parking in the Town Center and taking the shuttle to campus. He said that was not the intent and hoped that would not become the dominant use of the shuttle.
Namen said the Town Center route is perfect for resident students or commuter students who spend a lot of time on campus.
The Town Center shuttle stops across the parking lot from Target and goes back to the Library.  It continually makes that loop from 10 a.m. to 4 p.m. Monday through Thursday and 11 a.m. to 3 p.m. on the weekends.
Jeremie Jeanmaire, an international exchange student from Nantes, France, took his first shuttle to the Town Center Aug. 22 to get lunch.
Jeanmaire lives in Osprey Cove with other students from France. He said starting a new life is very difficult, but UNF makes it easy to get around and see a little bit of Jacksonville.
Joe Canzano, a UNF biology and chemistry junior, said the new shuttle routes are not conducive to rainy weather, citing Aug. 21's downpour. He said students expecting a pickup at Lot 14 instead had to endure the elements on their way to and from their parking spots.
Smyth said his department reported the upcoming shuttle changes with a full-page ad in the last April edition of the Spinnaker. He said there were also notifications on UNF's website.
He said he received several phone calls and emails the first few days from confused or disgruntled students. Now, as the semester progresses, he said he is no longer hearing about any problems.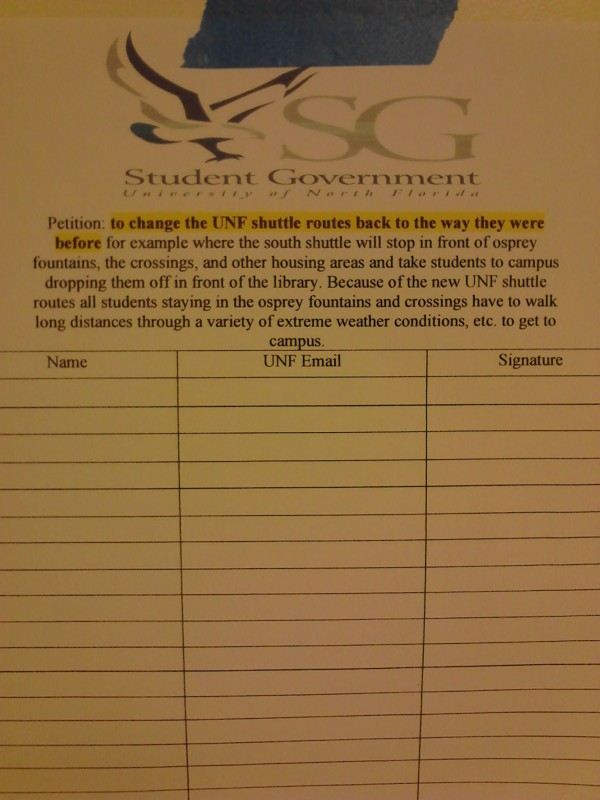 Smyth said the department is still determining the need for additional stops and will be closely monitoring the desires of the students.
Additional stops would mean more time for one complete loop. Smyth said there's a trade-off between providing service to different locations versus the total time of the trip.
"We will do what we think is best as we go forward, certainly involving the Student Government that originally proposed this service," Smyth said.
Smyth said the new route will bring a lot of foot traffic to the Town Center. He doesn't expect a massive outflux from UNF's food service outlets because he said the convenience of being on campus is a benefit from taking the shuttle's half-hour round trip.
And students, such as Matt Piner, a UNF history senior, are skeptical about the new route and said additional parking garages would be more beneficial to students.
But Smyth said classes and buildings in the core of campus take precedent over parking.
He said there are no plans to move toward any additional parking because UNF has the inventory to accommodate its students. He said last year, Lot 53 had a minimum of 800 available spots at all times.
"Everybody wants to park right next to their office or class, but that's just not going to happen," Smyth said.
He said UNF has more capacity than it needs parking for, and until its enrollment or staffing size increases, the total number of parking spots is sufficient.
Access and tuition fees fund the entire Osprey Connector program, Smyth said. UNF is contracted with American Coach Lines of Jacksonville, which provides shuttle operators and pays for fuel and labor.
Seven shuttles run along the main route and operate for about 110 hours a week. One goes exclusively to the St. Johns Town Center and back and operates 36 hours a week.
There is also one mobility assistant transport. Smyth said the new program, still in its infancy, was designed to assist those with disabilities. Although all shuttles are equipped with Americans with Disabilities Act technology, he said this one is specifically designed to transport those who need mobility assistance.
Smyth said this shuttle runs about 63 hours a week but changes depending on demand.
Email Justin Chandler Porter at [email protected].