Moritz Buerchner: From Germany to Jacksonville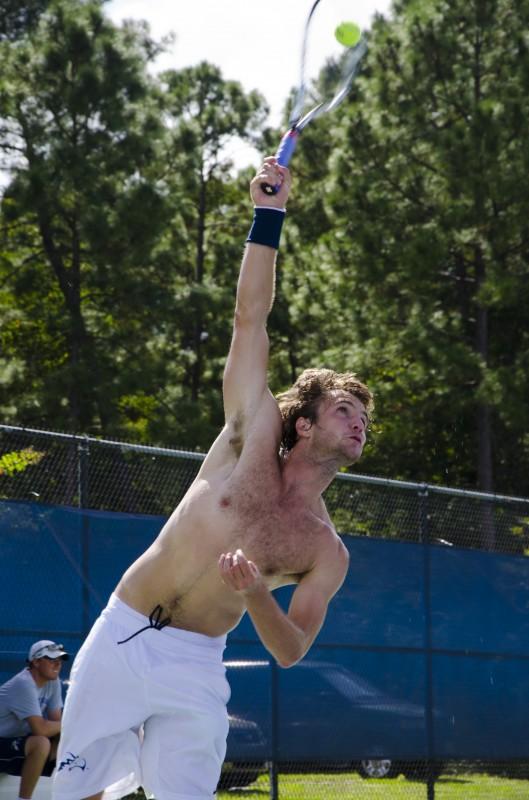 UNF's #1 tennis player faced two tough choices in his youth, whether to pursue tennis or soccer, and whether to stay in Europe or move to America.

Moritz Buerchner grew up in Haimhausen, Germany, where soccer is king. Buerchner spent a lot of his childhood playing soccer, but he spent more time playing tennis and perfecting his game.

Buerchner encountered some difficulties playing tennis often in Germany. Tennis is not a part of the school system in Germany, as it is here in the United States and with the cost of equipment and a coach, it was difficult at times.

"Paying for everything you need and hiring a coach, I can tell you, is not cheap," said Buerchner.

Buerchner was raised a tennis-lover after seeing his mother, who always had a tennis racket in her hand, according to Buerchner.

As he grew older, his time became scarce and it was time to decide between tennis and soccer, both of which he was quite good at. However, it was tennis that won over his heart and self-admittedly, he was a little better in tennis than he was soccer.

After Buerchner finished the German equivalent to high school, he was faced with the decision of where to continue his education, but that decision would prove tough for the rising tennis star.

If Buerchner stayed in Germany and attended a university, tennis would have to be put on hold, as the university in Germany doesn't have a tennis program.

Buerchner made the decision to leave his family, his friends and his country behind to come to America to continue playing tennis and furthering his schooling.

"I joined an agency over in Germany that specialized in sending kids to the States to play tennis collegiately," said Buerchner. "They got me in touch with the former coach, here at UNF and I really liked him, so I ended up here."

Buerchner is currently UNF's number one player and as a senior, he looks at himself as a leader as well. He recently finished second at the Florida State Championships held on the University of Florida campus, for the second consecutive year.

At the conclusion of his senior year, Buerchner plans to continue his education, but first, he wants to see what he is made of.