Women's Soccer Wins Two, Ascends to Top of A-Sun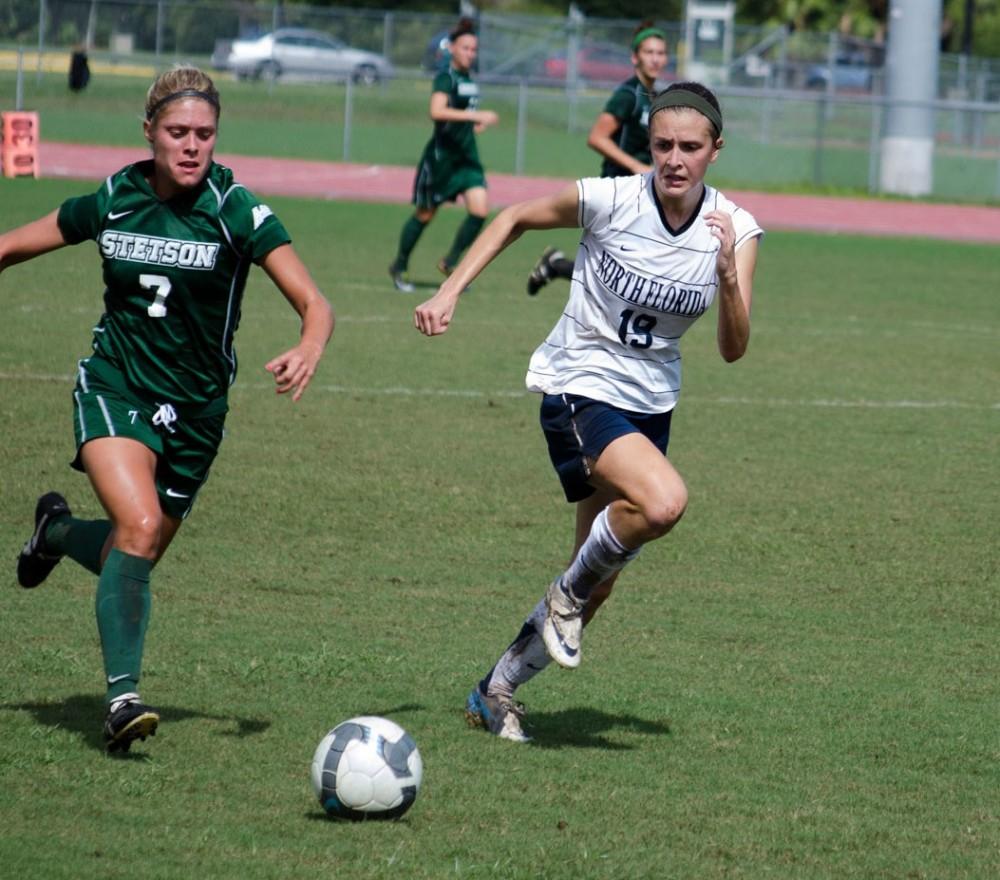 When the final whistle chirped on a hot and muggy Sunday afternoon match against Stetson, the UNF women's soccer team found themselves on top of the Atlantic Sun Conference standings.
UNF (4-0-1 A-Sun) emerged victorious, 2-1, against the Stetson Hatters (1-4-1 A-Sun) on Oct. 7.
The victory came on the heels of a 2-0 Oct. 5 win against Florida Gulf Coast, the team shares the top conference spot with the Ospreys.
Junior forward Carolina Lencina (5) scored in her third straight game against FGSU when she netted her fourth goal of the season in the 60th minute.
With her long curly hair bouncing with every stride, Lencina kept the ball on a string and helped UNF maintain early possession in the opening minutes of the Stetson match.
UNF started the match aggressively. The ball was camped on Stetson's side of the field for the first five minutes of the game.
Juniors Thea Linkfield (5) and Lauren Hopfensperger (3) used their speed on the outside to generate one goal each in the first half.
In the second half against Stetson, UNF seemed content with their two goal lead and stopped attacking, setting for sitting back on defense.  The decision nearly cost them.
"The kids were tired.  Both teams played on Friday, so this game was a bit slower," said head coach Linda Hamilton.
Stetson was able to maintain more control of the ball after UNF's second goal, which lead to the eventual goal by the Hatter's Mara Keomanivane.
"We slowed down and were waiting for the ball instead of going at it, but we came out with a win," said Lencina.
The Osprey's continued to run a 4-4-2 system in both weekend games, a system that Hamilton is comfortable with.
"I believe in the 4-4-2 system.  It's all about filling spaces and it highlights some of our strgenths," Hamilton said.
Hamilton said that she used more substitutes that she normally would, using 2 players instead of the normal 18, but defensive specialist Martha Tracey continued her steak of playing ever minute in every match this season.
Two players that are in danger of missing UNF's next match are Thea Linkfield and Lanie Keating.  Linkfield injured her ankle after sliding tackle by a Stetson defender, and the team will run test to see if there is any bone damage.
Keating sustained a head injury and her status is unknown.  Coach Hamilton is optimistic both will be back for the next match.
UNF will travel to Kennesaw State on Oct. 12 and Mercer on Oct. 14.
"I'm looking forward to playing in one of the best stadiums in the country [Kennesaw] but we have to be consistent for 90 minutes," said Hamilton.
"We've been working hard every practice, every game, and it just shows that hard work pays off," said Lencina.
On Oct. 7 the team celebrated more than a win against Stetson, senior Kathryne Husted also celebrated a birthday.