Baran Digs Herself to Another Record for UNF Volleyball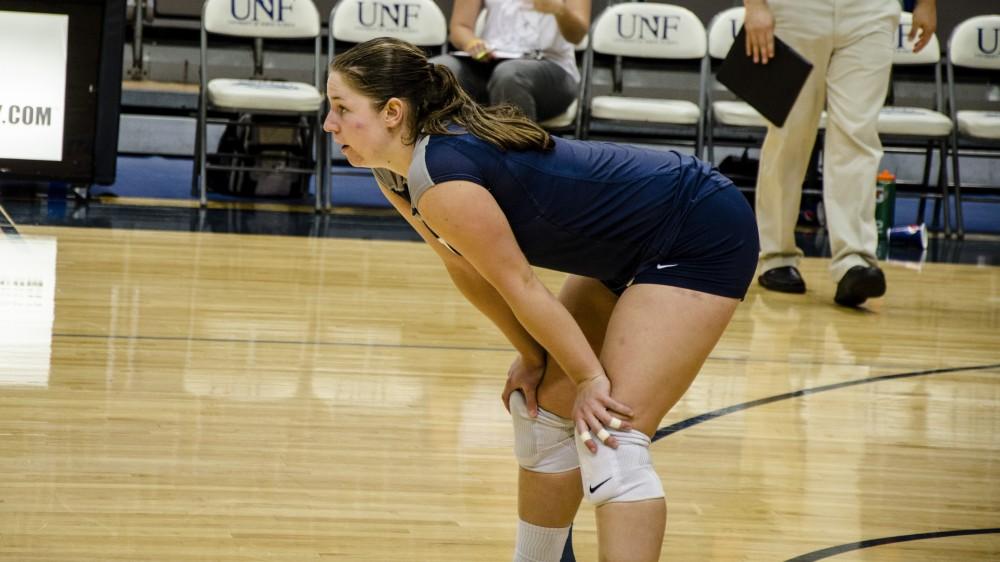 In the middle of UNF volleyball's 3-0 victory over Stetson Oct. 2 a voice came through the speakers to announce that with her fifth-dig in the match UNF senior Nicole Baran surpassed Tara Taylor as UNF all-time leader in digs.
"It's pretty cool, it's a nice accomplishment," Baran said. "It's awesome having my name on the top of the list."
Baran said that even though she likes knowing she's at the top, her main goal is to win a conference championship.
Baran has 1,651 career digs after the teams 3-0 loss to Kennesaw State Oct. 7. The old record held by Taylor was 1,616 digs.
Baran has averaged 4.10 digs per set for her career and with 12 games left in the season her career number is sure to rise.
Head coach Steve Loeswick said it's aluxury as a coach to know that a player like Baran is your libero.
"Nicole's a great player, we're still pushing her to get even better and get more consistent," Loesweick said. "She definitely makes my job easier. Having the confidence that shes back there knowing that she can make plays is great."
When at a game Baran is a stand out on the court not only because her jersey is a different color , but because she is one of the vocal leaders on the court. At any point during a game you can see her negotiating calls with the refs.
Baran is seen bending at the last possible second to let a serve land out. She is constantly making calls on the court to try and persuade the refs.
"I just try to do whatever I can to pump up the team," Baran said. "If I have to be loud then I'll be loud."
Senior Paige Pridgeon has played with Baran for the last four years and said Baran has shined as one of the leaders.
"Nicole [Baran] and I have worked hard to become the vocal leaders on the team," she said. "Nicole is a great teammate and I know I can rely on her to get a tough dig or give a nice pass."
Baran's achievement is the second career accomplishment reached this season by the team's senior class. Earlier in the year outside hitter Paige Pridgeon became the third player in team history to reach 1,000 kills and 1,000 digs.