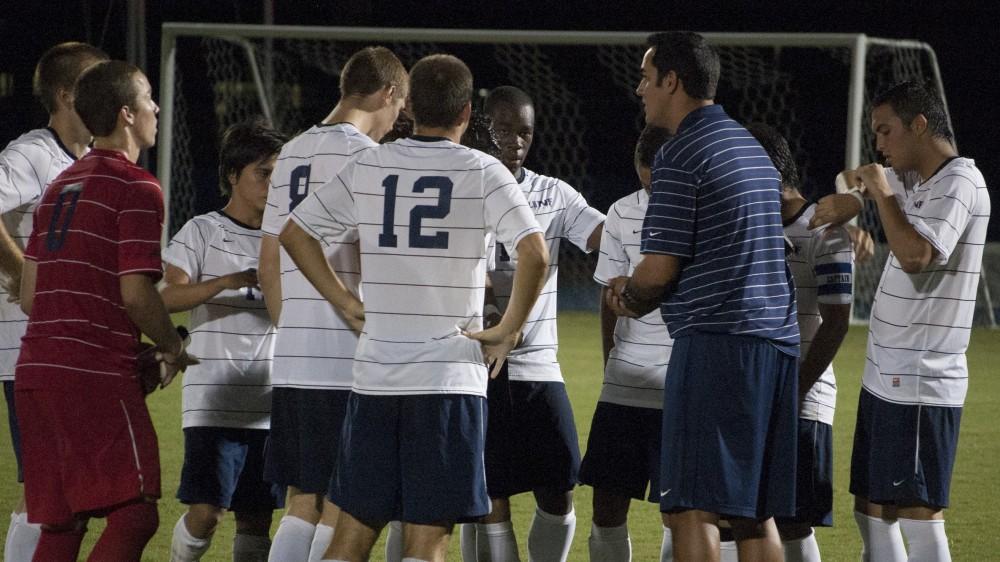 Bend the ball a couple inches to the left, to the right, or hit perhaps one more cross into the box, and the UNF men's soccer team(3-9-0, 0-3 A-Sun) would've celebrated its first conference win in a game against a first year A-Sun team Northern Kentucky (4-7-1)(1-0-1 A-Sun) Friday, October 12.
Instead, this year's Coaches vs. Cancer match at Hodges Stadium presented a microcosm of the 2012 UNF men's soccer season: not enough shots in the back of the basket to win. This time it was against Northern Kentucky, a team the Ospreys have never played before Friday night.
The 2012 Ospreys have only hit 43-100 (.430) shots on goal, which goes to say that of the 100 shots on goal the Ospreys had (a shot on goal is a shot that hits the crossbar, is blocked by the goalkeeper, or ends up around the net but fails to go in), less than 50 of the goals went in.
In UNF's current 7 game losing streak, the Ospreys have only scored two goals. The Ospreys went scoreless in five games through the 2012 season, and have only scored 1 time in the last five games. Conversely, Osprey opponents have had more chances near the net leading to more shots on goal (128-229, .559).
This means that nearly 60 percent of UNF opponents' shots on goal hit the back of the net. One might argue that the Ospreys allow too many goals, but UNF head coach Derek Marinatos believes otherwise.
"Sometimes it comes down to luck," said Marinatos. "We might hit the post, an inch or two to the left and we're up 2-1 (against Northern Kentucky) and feeling good." Marinatos added that goalkeeping, specifically in the game against Northern Kentucky, kept the Ospreys in the game.
UNF senior goalkeeper Brad Sienkiewicz returned to action Friday, playing the entire game, allowing a goal in the 21st minute, then another in the 85th minute. Adding six saves, Sienkewicz provided the Ospreys' with an on-field game manager that Marinatos said the team lacked in the senior goalkeeper's 1 month, 11 day absence due to a quad injury.
Despite Sienkiewicz's effort, along with midfielder/forward Teddy Mulamba's unassisted goal in the 77th minute, the Osprey's Achilles heel, which is cashing in on chances, cost them a win.
"I felt like nothing was going in for us," said Mulamba. "We almost got another 2-3 goals if the ball hadn't gone wide off the post." Mulamba said he felt the team played well enough to win, but couldn't get over the hump.
While both Mulamba and Marinatos conceded that Mulamba's goal boosted the team, they needed to cash in on more opportunities. "[Northern Kentucky] had more shots, but [UNF] had more quality chances," said Marinatos.
"We've just got to get a bounce; we're talking about 3-4 inches." Marinatos said the team got off their ball-possession style of game, but the main problem is the chances the team has, they need to finish. "We had a few missed hits," said Marinatos. "If [UNF] strikes the ball a little bit cleaner, our technique's better, I think we'll win more games."