Jekyll and Hyde Weekend for Women's Soccer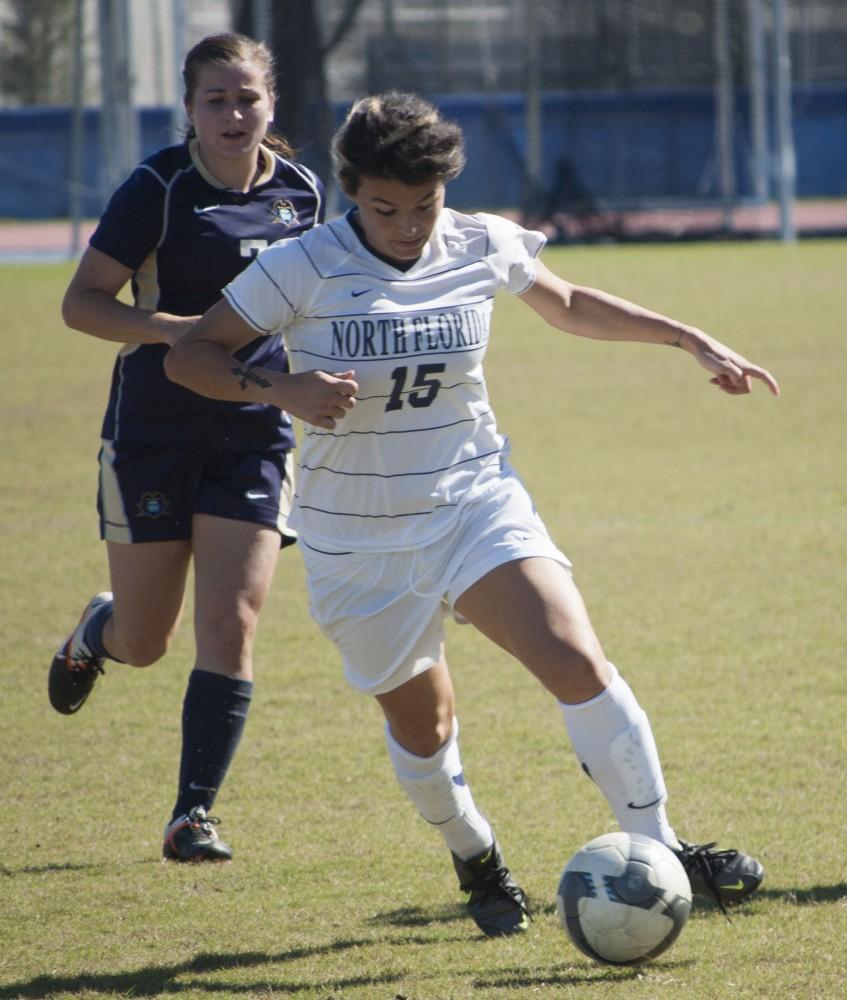 During a two game home stand over the weekend, the UNF women's soccer team was the windshield one game, and the bug for the next.
On Fri. Oct. 19, the Ospreys (7-9-2 overall, 5-3-1 A-Sun) played the role of the windshield as they squashed USC Upstate (3-14-0 overall, 1-7-1 A-Sun) by a score of 7-1.
"We finished opportunities early. We came at [USCU] fast and hard in the beginning, and once we started scoring it just kind of fell apart for them," said senior defender Martha Tracey.
The regular season finale against East Tennessee State (12-5-0 overall, 6-3-0 A-Sun) , however, saw the tables turn. UNF got behind early and lost on Sun. Oct. 21 by a score of 5-1.
UNF gave up four goals to ETSU's Ramey Kerns who currently leads the nation in goals scored, finishing her regular season with a total of 19.
According to Tracey, the team wasn't able to defend in one on one situations and it cost the team a handful of goals. Starting goalie Rachel Beninati, who looked shaky in front of the net, was pulled after she surrendered three goals in 18 minutes.
Sunday's game was dubbed Senior Day, as it marked the last time six UNF players would play a game at Hodges Stadium.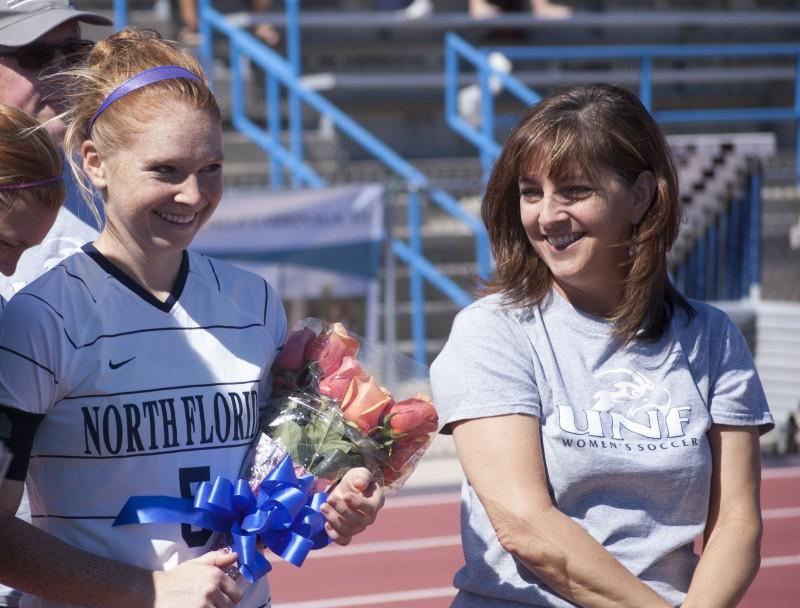 Senior players — Martha Tracey, Sadie McLean, Kathleen Murphy, Michele Larrinaga, Kathryne Husted, Brittany Hahn — were honored for their accomplishments before the game.  Each player, escorted by family members, were presented with flowers and a hug from head coach Linda Hamilton.
"Even though we didn't get the result we wanted, I have to say I love these girls," said Tracey, who played every minute of the regular season.
The loss to ETSU dropped the team to a sixth seed out of six teams in the up coming Atlantic Sun Conference tournament. The Ospreys travel to Kennesaw, GA for the opening match of the tournament to face Kennesaw State on Oct. 27. UNF played at KSU earlier in the season on Oct. 12 and lost 4-2.
UNF has been less than stellar on the road, dropping six of the nine games played on foreign soil.
"At this point you either win and go on, or lose and go home. So, we don't have much of an option we've got to get everything put together and we have to stop giving up crap goals. We've got to be better or we are going to be done," said Hamilton.