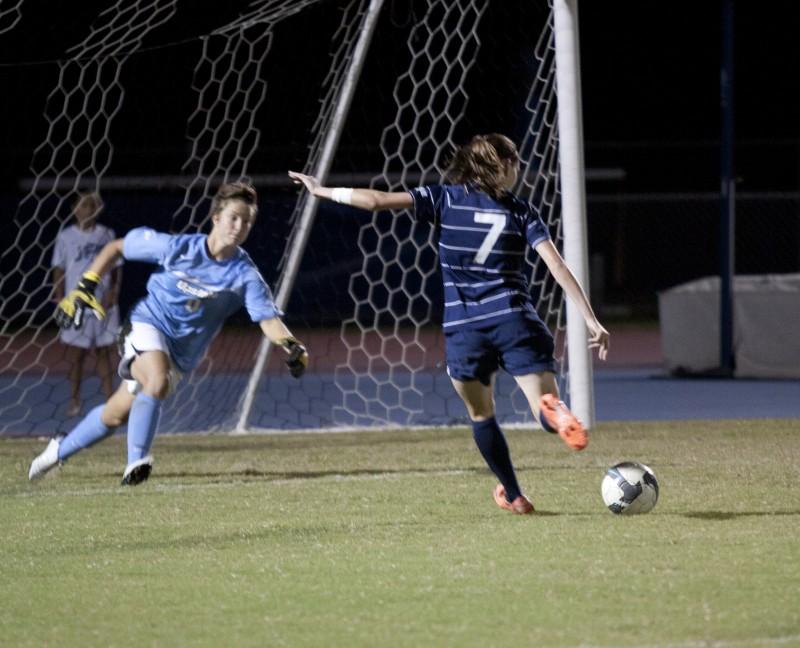 The North Florida women's soccer team's hopes of winning an A-Sun championship were clawed by the Mercer Bears in a 3-0 loss on Fri, Nov. 2 in the Atlantic Sun tournament conference semifinals.
The Ospreys finished with an 8-10-2 overall record, including a 5-3-1 conference record. This season marks the second consecutive season in which the Ospreys lost in the semifinal round of the tournament, with last season's loss coming at the hands of FGCU.
"It's always a difficult loss when you end the season," head coach Linda Hamilton said. "We didn't have our best effort today and that's something that's tough to do against a quality team like Mercer."
Instead of talking too much about the loss in detail, Hamilton said she wanted to pay homage to the seniors from this team.
"I'd like to leave a nod to the senior leadership," Hamilton said. "I think our seniors were a fabulous group."
The 2012-2013 senior class from the Ospreys women soccer team includes defenseman Sadie McLean, defenseman Martha Tracey, defenseman Kathleen Murphy, forward Michele Larringa, midfielder Kathryne Husted, and goalkeeper Brittany Hahn.
The Ospreys lost at Mercer by the same score (3-0) on Oct. 14. The teams Nov. 3 semifinal loss epitomized games throughout the season in which UNF had trouble scoring goals.
Senior Sadie McLean stroked a shot in the last 20 minutes that bounced off the goal post, which was a bit of a theme for this group through the season.
"You reflect on the positive," said senior Martha Tracey, who notched one shot on the night. "Sometimes things don't happen the way you want."