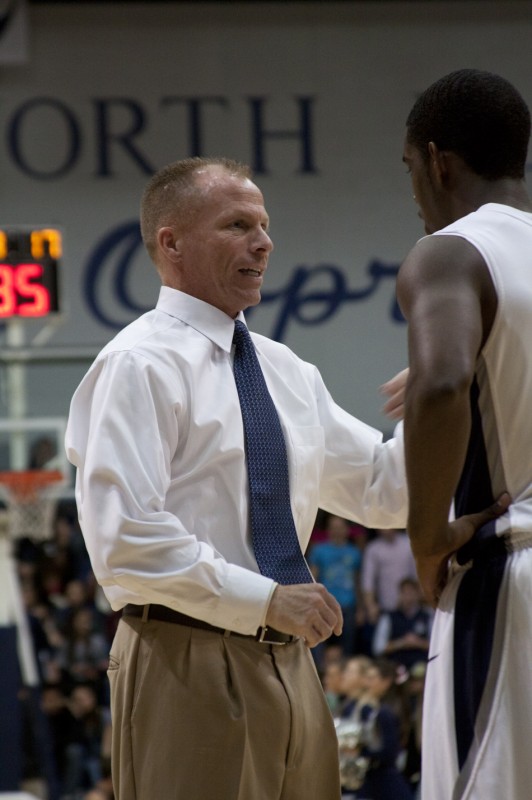 Seventeen points from senior Jerron Granberry wasn't enough, as the #17 Memphis Tigers surged past the Ospreys, 81-66.
UNF (1-1) led Memphis (1-0) 3-0 to start off the Ospreys first road game of the season, kick-starting a back and forth relay that lasted 9 minutes and 47 seconds. Then, the reality of playing a top 20 opponent on its home floor set in, and Memphis coach Josh Pastnor started rolling in big bodies that dominated the comparatively undersized UNF squad.
Memphis used its strength in rebounding and timely shooting to pull away in the first half to defeat UNF in the Ospreys first of its five consecutive road games.
"It's just one of those things where you're playing a top 20 team in the country," said Driscoll. "Goodwin just [helped Memphis] get a lot of easy buckets."
After Pastnor subbed in 6 foot 9, 246 pound highly touted freshman Shaq Goodwin, Memphis began dominating the boards, out rebounding UNF 47-31 for the game. Goodwin brought down 7 rebounds and was 6 for 6 from the foul line in his first collegiate game.
Tigers 6 foot 9, 262 pound junior Tarik Black, who lead all scorers with 18 points, notched seven rebounds and provided another dominant force on the boards that wore down a UNF team whose biggest player is 6 foot 8 235 pound senior Andy Diaz.
"I thought [Memphis] did a good job using their bodies," UNF head coach Matthew Driscoll said. "You can't simulate that every single day in practice."
While UNF was at a clear disadvantage in the paint and on the boards, one advantage Driscoll thought the Ospreys would have over Memphis was the outside scoring ability. UNF shooting guard Parker Smith opened up the game with a three pointer to give the Ospreys the early lead. Smith shot 4 of 8 from long range but only 4 for 11 from the field, and finished with 12 points.
"We've just got to continue to improve," said Driscoll. "I told the guys I was disappointed that we didn't have more fight."
Memphis guard Anotnio Barton drained a three with 10:06 to go in the first half to put the Tigers up 22-20—a lead they would never relinquish. The three sparked a 16-0 run that seemingly sealed the game and stunted UNF's chances for the school's first ever upset of a top 25 opponent.
"It's really frustrating," Driscoll said. "I expect to execute what we execute. I am not a moral victory guy and I've never been a moral victory guy."
The Ospreys came out victorious in individual battles despite losing in the most important statistical category—the score. Five foot eleven senior point guard Will Wilson notched a career high 9 rebounds, paired with 5 assists, and 1 point against only two turnovers. Wilson led both squads in rebounding despite being the smallest player on the floor.
"I thought we fought hard," Driscoll said. "We blocked out at times."
Granberry added  3 rebounds to go along with his 17 points, shooting 6-13 from the field and 3 of 8 from beyond the arc. Granberry's shooting provided the Ospreys with a second half spark that helped UNF shave a 66-37 Memphis lead down to a 79-63 Memphis lead with 2:07 left in the second half.
"It did a lot for my confidence," Granberry said, who scored in double digits for the first time this season. "But we were hurt, we lost. We have to put the game behind us."
Granberry said rebounding was the biggest issue for the Ospreys, and UNF looks to get back to crashing the boards on the road against another Tigers squad in Savannah State Nov. 14 at 7 p.m.