Volleyball falls to ETSU in A-Sun tournament final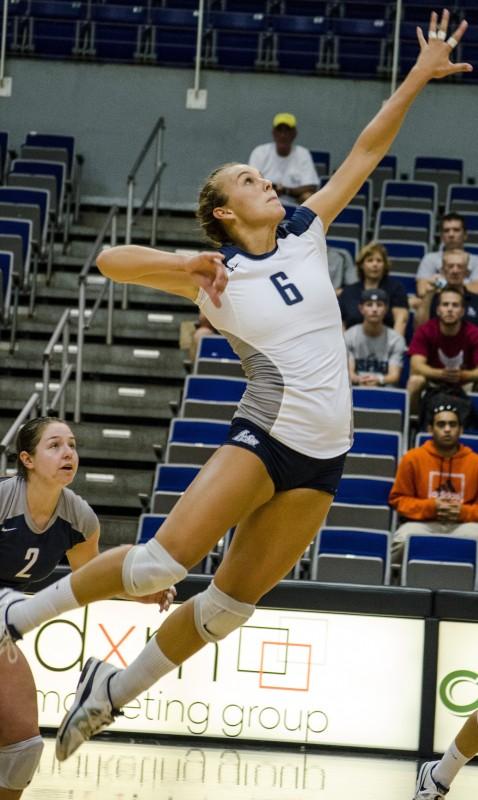 Nashville, Tenn — An unlikely run by UNF's volleyball team in the Atlantic-Sun Conference Tournament ended Saturday when the Ospreys lost a five set match to ETSU (23-25, 24-26, 25-18, 25-22, 12-15), snapping the team's eight game winning streak.
After falling behind two sets, UNF (23-12, 11-7 A-Sun) was able to snatch the momentum from ETSU (23-12, 11-7 A-Sun) after intermission and win the next two sets spurred on by the energy and leadership of senior, and A-Sun Libero of the Year, Nicole Baran.
In the 5th and deciding set, the fans for ETSU became a factor and helped the Bucs jump out to a 6-0 lead. UNF was able to get within two of the lead at 12-14, but when Khadijah Wiley put away her seventh kill, the Ospreys hopes of their first ever conference championship ended.
Reigning Conference Player of the Year Megan Devine lead the way for ETSU with her power at the net and service line, and finished the match with 15 kills and 20 digs.
At a key moment in the second set with UNF tied with ETSU at 24-24, senior Paige Pridgeon (18 kills – 15 digs) committed a crucial service error giving the Bucs a one point lead and the side-out. The next point Dagnia Medina's kill attempt was blocked and ETSU claimed the set.
UNF, who were seeded fourth, reached the finals by defeating the fifth seeded JU Dolphins on Thurs. and upsetting number one seeded FGCU Eagles on Fri., 3-0 and 3-2 respectively.
Head coach Steve Loeswick's five senior's, Carolyn Jenkins,  Dagnija Medina, Marija Pantovic, Pridgeon and Baran played in the last indoor match of their UNF carrer's. Jenkins finished with 17 kills and 6 blocks, Medina ended up with 10 kills and 5 blocks, and Baran had 18 digs.
UNF finished with its most overall wins (23) and conference wins (11) since moving to Division I in 2005.