K-State hands UNF men's basketball its third straight loss
Manhattan, Kan. — The UNF men's basketball team lost its third game in a row Sunday afternoon, this time to the Kansas State Wildcats. The loss marks the Ospreys' third consecutive road defeat and the third game in a row in which the senior laden squad was outrebounded, this time  by an overwhelming margin, 54-31.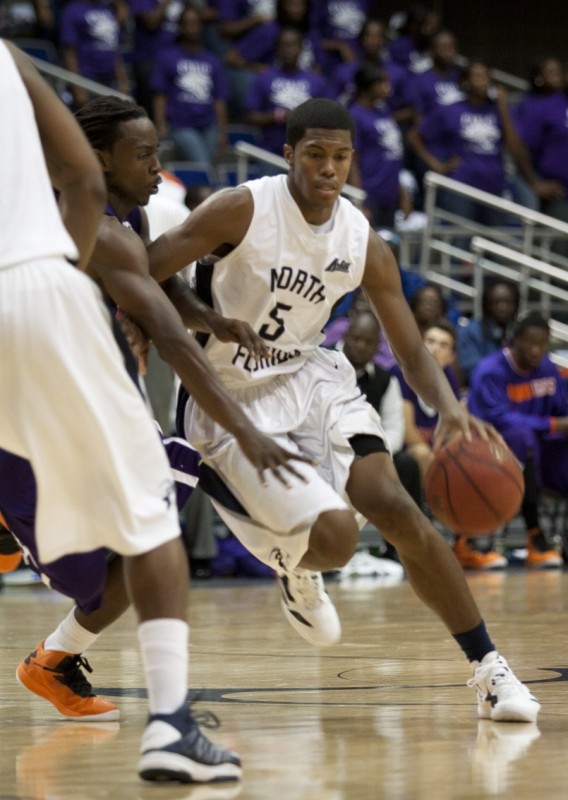 Despite the high number of upperclassmen, UNF (1-3) saw high contributions from freshman Beau Beech and junior Travis Wallace. Beech dropped 15 points on K-State (4-0) marking a career high for the Ponte Vedra Beach, Fla. native, while Wallace notched 13 points, 6 rebounds, and 3 blocks.
Offensive consistency beyond Beech and Wallace proved sparse for UNF, as the Ospreys shot 36 percent (20 -55) from the field, 25 percent (6 -24) from three point range, and 60 percent (9-15) from the charity stripe. UNF pulled within 19 of Kansas State with three minutes left in the game then stalled as neither team found the bottom of the net en route to Kansas State's fourth win of the season in as many tries.
UNF senior shooting guard/ forward Jerron Granberry ran into another cold streak shooting 2 of 13 from the floor including 1-10 from beyond the arch. Senior point guard Will Wilson dished out four assists, along with two steals, and two turnovers.
UNF next travels to Tallahassee, Fla. to play the Florida State Seminoles (3-1) Wed, Nov. 21 at 7 p.m. The game marks UNF's fourth consecutive non-conference road test.