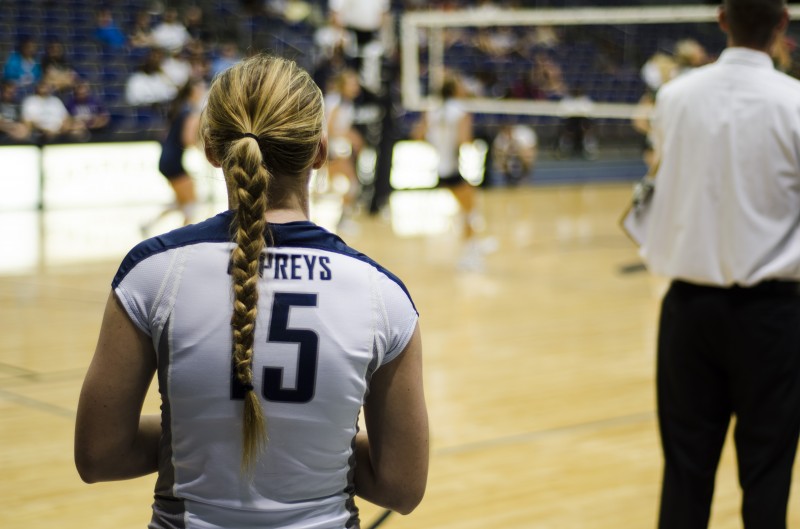 After losing to ETSU in the fifth set at the A-Sun Championship game, Nov. 17, 2012, five UNF senior volleyball players walked around the court for the final time in their collegiate careers.
Later that November, the team took a preemptive step to replace those players, announcing the signing of four recruits during the early signing period.
UNF signed: Abby Fesl, a 5-foot-11 setter from Arlington Heights, Ill. — Carina Hoff, a 6-foot-2 gifted athlete from Eustis, Fla. — Kelly Koop, an outside hitter from McKinney, Tex. — and Morgan Van Alstine, a 6-foot-1 middle blocker from Merritt Island, Fla.
Fesl finished her career at John Hersey High School as the school'snleader in assists with 2,568. Fesl was an All-Area selection three times, and was named the Chicago Sun-Times All-Area second-team her senior year.
"She has a great feel for the game," said UNF's women's volleyball head coach Steve Loeswick. "She has a long line of volleyball history in her family. I think she can do some really special things for us."
Hoff made history, as she was Eustis High School's first volleyball player to sign with a Division I team.
"She's a great player who works hard," Loeswick said. "She doesn't have a set position yet, but I see her playing a lot of spots on the front line."
Koop is the only player of the four with a decent amount of time spent not only indoors, but also in the sand. In 2012 Koop won the silver in the under 18 division at the USA Sand Volleyball Nationals. Koop also led McKinney Boyd High School to the 2011 Texas 5A State Finals and the 2012 Texas 5A State Semifinals.
"Great, great athlete with a ton of experience in the sand and in indoor," Loeswick said. "I think that she will be able to provide a spark for both teams."
The player that Loeswick feels will get the most playing time as a freshman is Van Alstine.
"She's a true middle blocker and she'll get playing time right away," Loeswick said.
Van Alstine led Merritt Island High School to victory at the 2011 5A State Championship. The team also made an appearance in the 2012 5A State Championship finals.
Van Alstine was the 2011 Florida Today Player of the Year, and owns school records in blocks and kills at Merritt Island High School.
"What the [UNF] seniors did was an amazing job — they got the program to where it is," Loeswick said. "But when this group gets to its junior and senior season, I think we'll be an even better program."
When it comes to replacing the seniors and having upwards of seven new freshmen on the team, Loeswick is realistic but optimistic.
"There's no doubt there is going to be a learning curve," Loeswick said. "Every team takes its course, but I don't think this team will take a big step back — if any for that matter."
The volleyball team begins its sand season with the Cocoa Beach Invitational, March 9.