Director of UNF Women's Center Sheila Spivey devotes her life to victim advocacy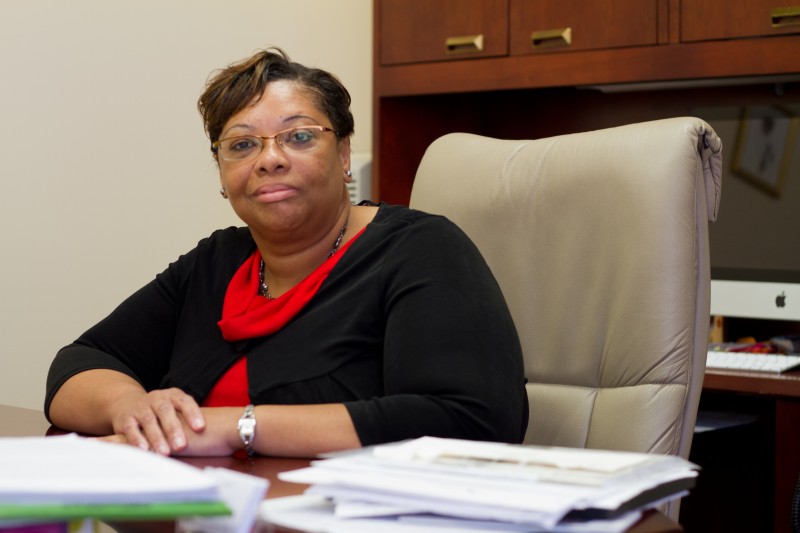 Sheila Spivey is responsible for the day-to-day operations of the Women's Center: planning and implementing goals, overseeing programs, hiring staff and making sure everything runs effectively and efficiently.
Spivey came to UNF 14 years ago as coordinator of victim advocacy, and was later promoted to assistant coordinator of the Women's Center before taking her current position as director, where she has served for the past three years.
"I'm open to opportunities, Spivey said. "What I'm not open to is being at a place where I become stagnant or where the center becomes stagnant because of me."
Receiving her bachelor's degree in science and psychology with a minor in administration of justice from Howard University in Washington D.C., Spivey didn't always have such a passion for advocacy and intervention.
"I was just looking for what opportunities would be good to gain experience," Spivey said.
While earning her degree, Spivey volunteered at the rape crisis center in Washington D.C. In her career, Spivey often deviated from the path of victim advocacy.
Although she was a probation officer for a while, she also worked at a bank and a church. Spivey said these jobs didn't interest her and weren't her passion. She continued to do volunteer work on the side.
Upon coming to Jacksonville, Spivey worked at Hubbard House and put together programs about healthy and unhealthy relationships for people in jail. While working there, she also attended UNF as a student, earning her Master's degree in Criminal Justice.
Spivey said coming to work at UNF just seemed to be a natural part of the whole process.
"Being here at the Women's Center, I can say that no two days are the same," Spivey said.  "It really depends on what the needs are."
Spivey said the most challenging part about working at the Women's Center is when she sees students who have been the victim of a crime. She said it's difficult seeing people struggle and hurt when she isn't able to change that, but only provide as much emotional assistance as possible.
Spivey also teaches a class on family violence in the criminal justice department. She said one of the greatest benefits of working at UNF has been the relationship with the students.
A few months after working here, Spivey's mom passed away. Some of her students showed up at her mother's funeral. Spivey said she considers them a part of her family, having attended some of her students' weddings and, unfortunately, some of their funerals.
Spivey said developing these sorts of relationships wasn't possible in her various criminal justice positions because of safety issues.
Spivey enjoys working with people and giving them the tools to go from being a victim to a survivor. She said it's important to provide direct services while preventing the likelihood that crime is going to occur.
Aside from helping her transition into her role at UNF, India Powell, the Women's Center event coordinator, said Spivey helps in many ways.
"She is very invested in the lives of women and to bettering their lives," Powell said. "I see that in her work every day. She's created an environment where males and females want to be here."
Outside of work, Spivey is active with her church and her faith. She is the ministry coordinator at Dayspring Baptist Church.
"I'm really committed to that," Spivey said. "That's what gives me energy and strength."
Family and friends are also important to Spivey. She has a great-niece and great-nephew, whom Spivey said, at the young ages of ages six and eight, already know what volunteerism is all about. They have helped their aunt with work, such as serving breakfast and bell ringing for the Salvation Army.
Email Taylor Nelson at [email protected]