3 UNF baseball players taken in MLB draft
JACKSONVILLE, Fla. — The UNF baseball team had a handful of current and future players drafted in the 2013 Major League Baseball draft.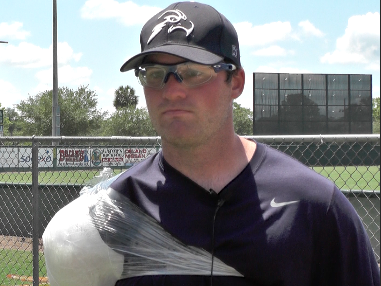 Current players Tyler Marincov, Corey Bass and Kyle Westwood were all selected by major league teams.
Since moving to Division I, the Ospreys have now had 11 players selected in the MLB Draft.
Marincov is perhaps the least surprising player to have a chance to play professional baseball. He was scouted by a number of major league teams throughout his college career. The Oakland A's selected the right-fielder in the 8th round with the 251st pick.
Marincov was in Pittsburg for his cousins wedding when he received the news that he was drafted.
He was expecting a call the first day of the draft but cell phone service at his grandparents house was poor, so he booked a hotel room with his dad to assure he wouldn't miss the call.
"We camped out around the iPad and watched the draft," Marincov said. "I got called a few picks before Oakland was up and they called me and we agreed on a price."
Marincov's parents were in the hotel room when his got the news.
"It was pretty exciting," Marincov said.
Marincov said he was always a football player growing up but decided to take the baseball route because he had more opportunities.
Marincov will forgo his senior season and sign a contract with the A's organization
"I'm flying out to Phoenix [Tuesday] to sign my contract," Marincov said.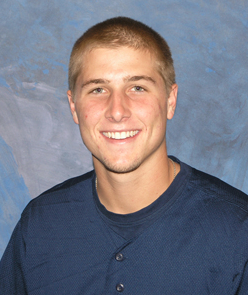 The 6-foot-2 outfielder and Orlando native has the size, strength, speed and power that will be able to transition easily to the  pro level. He led the team in stolen bases and slugging percentage.
Catcher Corey Bass wasn't in a hotel room, or even inside , when he found out he had been drafted. Bass was at a gun range.
"I went away with the family, we actually we to the gun range, kinda to get out some stress and try not to think about it," Bass said.
Bass said he was in the middle of shooting when his phone started chiming with multiple text messages.
"I looked down, kinda put everything on silent and kept going," Bass said. "When I looked down again every text message said 'Congrats, Congrats'. I said 'Well, I guess I just got drafted."
About 30 minutes later Bass received a call from the Phillies confirming he had been drafted.
Bass was selected by the Philadelphia Phillies in the 20th round with the 601st pick of the draft.
The curly haired catcher will travel to Clearwater to sign his contract and the team will tell him where he will  playing. He believes he will be playing in Pennsylvaina with a Single-A team.
Bass made a name for himself behind the plate this season with his major league arm. He finished his UNF career throwing out 48 batters trying to steal and picking off an additional 16 base runners.
Pitcher Kyle Westwood was drafted with the 377th overall pick in the 13th round by the Huston Astros. The big, hard throwing righty pitched 234.0 innings recording 209 strikeouts compared to just 58 walks, nearly  posting a 4-to-1 strikeout-to-walk ratio in his career.
All three UNF draft picks improved their draft status from high school.
Marincov was drafted in the 48th round by the Detroit Tigers in 2010, and Westwood was picked by the Baltimore Orioles in 2009 in the 44th round. Bass was undrafted out of high school.
Players yet to wear a UNF
jersey were also taken in the draft.
John Costa, a UNF signee out of Palm Beach Community College, was selected in the 13th round by the Washington Nationals, and Bryan Baker, a signee from Fort Walton Beach, Fla. was picked in the 40th round by the Pittsburgh Pirates.