UNF volleyball can't get away from .500 record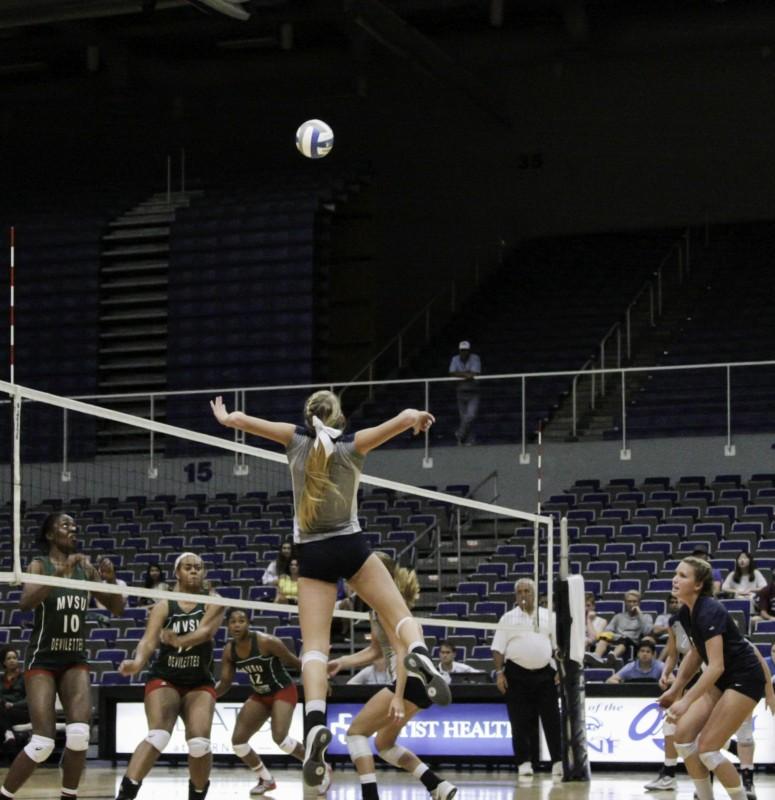 UNF entered it's match against Middle Valley State University Sept. 7 looking to get back to .500 and become a consistent team.
Head coach Steve Loeswick went with a group court that didn't see much playing time in the teams opening tournament in the second match of the weekend. Despite playing with few normal starters the Ospreys took down the Devilettes easily with a 3-0 sweep to finish their home opening weekend 1-1, leaving the team 3-3 for the year.
UNF took a 2-3 loss to Florida Atlantic University on Friday.
One of the players who was left out of Saturday's match was outside hitter Anna Budinska, who was coming off a career day where she recorded 29 kills in five-sets. Budinska was on the sideline and dressed but was seen holding a clipboard for much of the match instead of putting her full force behind spikes. It doesn't seem as though Budinska is in any trouble of losing her starting job, but along with others who played five-sets the day before, was getting a rest.
After two weeks it seems like some of the position battles that were taking place over the beginning of training camp and during the first weekend are finally starting to come into place.
Abby Fesl still continues to impress as she picked up 61 assists in seven-sets over the weekend while returning setter Britt Claessens tallied only 17 assists in five-sets, all 17 assists came in the win against MVSU.
In the battle for libero it seems as though Cari Whitmire is continuing to spread the distance between her and Kayla Fessler. With 35 digs over the weekend Whitmire continues to see extended playing time on the court.
Though it is early in the year, UNF looks to be average and still working out kinks. The team looks out of place at times, but continues to improve. With a more permanent lineup it can be believed that the team will grow more cohesive and begin to get a feel for each other on the court.
While the Ospreys look average at moments, schools like Jacksonville University (6-0) and Stetson (5-3) have looked impressive so far.
A shocking development in the A-Sun sits in Fort Myers as Florida Gulf Coast University, picked to finish first in the A-Sun preseason poll, sits at 1-5. In FGCU's five losses they have been swept every time but it should be noted they have played two top-25 teams so far this season.