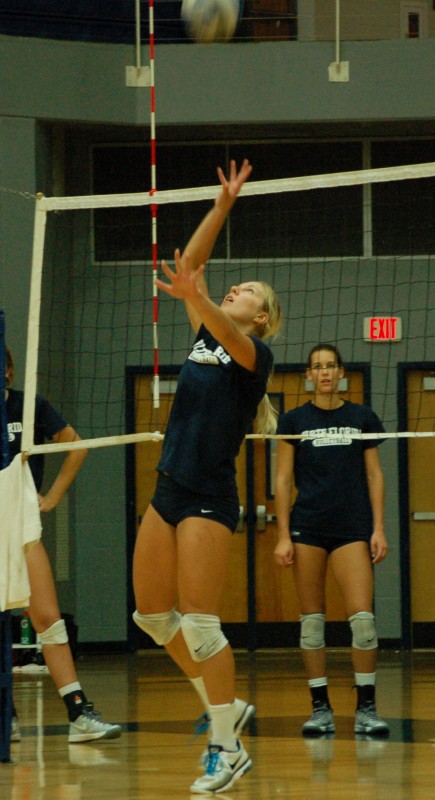 UNF volleyball continued to struggle getting over the .500 hump and fell to the now 2-4 Florida A&M Rattlers, 3-2.
UNF (3-4) looked strong after picking up the third set of the match and taking a 2-1 lead. Instead of capitalizing on the breathing room the Ospreys took one step back while the Rattlers took three steps forward.
FAMU ended up tying the match with a dominant 25-15 win in the fourth set and then used an early run in the fifth set to take the final set of the match.
Once again for the Ospreys, head coach Steve Loeswick threw out another different starting lineup. This time Loeswick included Kayla Fessler and Morgan Van Alstine in the starting rotation. Anna Budinska and Abby Fesl continued to be starters as they have been for majority of the season.
Loeswick said the starting roster will be determined by the play of each player during the week and that no one on the team has a set starting position.
"There's some benefits and problems from having the changing roster," Loeswick said. "At the beginning when you're playing next to someone else every time it's difficult."
When asked if the team will have a set starting roster anytime soon Loeswick said most likely not.
"Honestly I don't really know," he said. "I feel like our team is deeper than we have been but we're also a lot younger and I'm not 100 percent sure that they can sustain the daily grind of playing two matches every weekend. I really like our team…they just don't have the experience to prepare mentally and physically for a match that you learn throughout college."
The Ospreys will have to find some cohesion and a way to finish tight games as they head to Athens, Ga. this upcoming weekend to play in the Benson's Group Invitational. The team opens up against host school Georgia and then faces UNC Greensboro and Louisiana-Lafayette to finish off the tournament.