Women's soccer shut out again in loss to Furman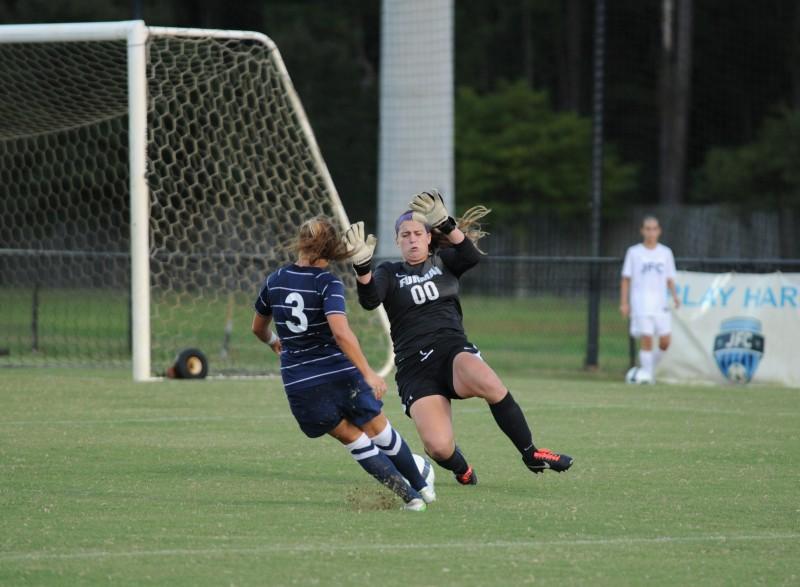 JACKSONVILLE, Fla. — This is the time in the season when wins and losses don't mean much in the way of conference championships, but the UNF women's soccer team can't like the path it's on.
In Friday's game against the Furman University Paladins, UNF was shut out again in a 2-0 loss.
UNF (2-6-2) has been shut out five times this season including Friday's loss to Furman (5-2-1). Granted, each loss was to a bigger, non-conference team. (Navy, George Mason, UCF, USF)
UNF exploded for 10 goals in a win against tiny Arkansas Pine-Bluff, but outside of that, the team has scored only four goals in the other nine games.
The Ospreys got in to an early hole Friday when Furman's Stephanie DeVita capitalized on a poor clearance to score a goal in the second minute. DeVita posed problems for UNF's back line all game, racking up four shots, part of 20 total for Furman.
Freshman and leading goal scorer for UNF Alexis Bredeau (3) was one of the bright spots of the offensive attack during the game. Bredeau used her speed to get up and down the right wing and managed to get off three shots, one of which would have leveled the game at 1, but the shot bounced off the post.
Furman's second goal was scored off the head of Hannah Stanifer in the 70th minute on one of eight corner kicks for the team. UNF had just one corner for the game.
Senior forward Carolina Lencina saw her share of the ball — maybe too much. Lencina has a magical touch on the ball, but at times the ball has a tendency to stick at her feet.
At one point, when UNF was already down two, one of Lencina's teammates voiced her disapproval towards the senior forward and decision to not play a through ball.
Lencina didn't like it. She glared at the player and said, "Don't yell at me."
UNF was not able to capitalize on a true home field advantage and played its third home game of the season off campus at Patton Park.
Head coach Linda Hamilton said she would love to be playing at Hodges Stadium, but the fact that away teams have to travel gives UNF an advantage.
Keeper Megan Dorsey, despite giving up two goals, had a solid game in net racking up eight saves.
The number of fouls called by the referee highly favored Furman (FU – 6 UNF – 14), a fact that did not go unnoticed by Hamilton.
UNF plays again Sunday at 1 p.m. at Patton Park.