UNF's golden coach: a part of history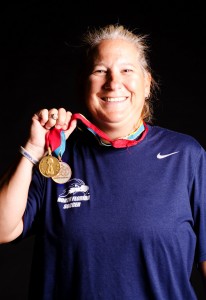 The score was 1-1 in the 87th minute of the 1991 FIFA Women's World Cup — USA was playing Norway. The intensity of the game was overwhelming as a crowd of 65,000 watched at Tianhe Stadium in Guangzhou, China.
With only three minutes left, forward Michelle Akers scored the goal and won USA the World Championship.
UNF Women's Soccer Head Coach Linda Hamilton was one of the USA players celebrating in Tianhe Stadium when the final whistle blew.
"There's something a bit indescribable when you look down and see your country's colors on your chest and hear your anthem," Hamilton said. "China really rolled out the red carpet for us and made it feel like a world event even though the rest of the world, especially in the U.S., didn't really know about it."
Women's soccer was still relatively unknown in the sporting world when Hamilton transferred from being a 3-time All-American at North Carolina State to a University of North Carolina player. Hamilton earned her fourth All-American honor and won a National Championship under Tar Heel Head Coach Anson Dorrance.
When Dorrance was appointed the National Team Head Coach for the historic 1991 World Cup she knew Hamilton would be a part of it.
"She was absolutely tough as nails — just one of the most aggressive and toughest kids I ever recruited. When I was appointed national head coach she was an easy choice," Dorrance said. "I knew she would take care of whoever she was matched up against."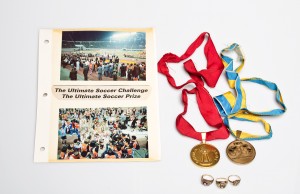 The USA defense only allowed five goals during the tournament and never lost a game. Dorrance said they played with a 3-4-3, using two marking backs and a sweeper. Hamilton was a marking back.
Dorrance assembled one of the most talented teams USA has ever seen, a team featuring future superstars Mia Hamm, Brandi Chastain, Julie Fowdy and Kristine Lily. "We were a bunch of unknowns. You just had to be a soccer fan if you knew who we were," Hamilton said.
"We blended Hamilton in with the collection of kids and had almost a perfect storm of different personalities that just blended well together," Dorrance said. "It was cool for us to be world champions in a world sport."
Hamilton credits Dorrance, a 21-time national champion coach, with getting her involved in coaching.
"We used to work summer camps to stay fit for playing because at the time there was no professional league. You had to get used to training yourself," Hamilton said. "He suggested I go through the coaching schools even while I was still in college."
Though soccer was still a rising sport, Hamilton was on the peak of the movement that pushed women's soccer further than many could have imagined.
The first official women's soccer pro league was ignited in 2000. However, the soccer fever was short-lived; dwindling TV ratings and only two major investors remained, according to an article by Allison McCann. The league shut down three years later.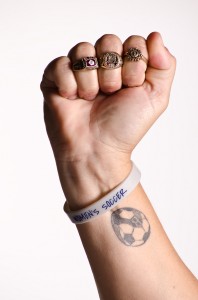 According to the UNF Athletics website, Hamilton was head coach and director of player development for the Richmond Strikers Soccer Club until 2006.
She earned her 50th career win this season and feels this year is something special since the seniors of the team were her first intentional recruits.
Heather Botelho of Palm Bay was one of Hamilton's recruits.
"She brings a lot of experience to the bench and tells us her stories, so that gives us a huge insight on the championships she's won," Botelho said. "It feels good to always have someone behind you wanting the best out of you. She's always pushing you to do your best."
Bri Swift, another senior, is also aware of the coach's' accomplishments.
"Just because being little and watching the national team play and knowing she was part of that, it's exciting," Swift said. "She knows how important it is to us and what level we need to be at so she can really relate to us on that level."
"There weren't nearly as many college teams. There weren't environments that were there for youth development," Hamilton said. "I think for us, we had been doing it and training as this unknown, so [the World Cup] was the next step for us."
Since then the USWNT has earned six World Cup medals: two gold, one silver and three bronze. HBO's sports documentary **Dare to Dream** mentions Hamilton's 1991 team as a key part of the history of women's soccer.
"My playing days were what they were and I was so lucky to play the game with who I think were some of the best players in the world that have ever played the game," Hamilton said.