Police Beat Oct. 21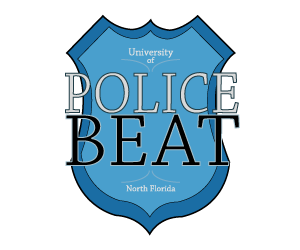 Oct. 15 – Parking pass theft (Garage 38)
A student reported her parking decal stolen. The student routinely parks in Garage 38, and had last observed her decal on Oct. 10. No traces or evidence of the decal, valued at $140, were found on the car.
Oct. 15 –Theft (Building 41)
A student left his book bag unattended for about 30 minutes, and had several items stolen from it.
The victim, 19, left his book bag on the second floor of the gym and walked down to the first floor.
When he returned to the second floor he found that his, ear-buds, hat and wallet missing. His wallet contained his social security card, his driver's license, a debit card, and his UNF ID.
Because there is no suspect information and no known witnesses, the case was suspended.
Oct. 15 – Theft (Lot 18)
A student's backpack was stolen as he played football.
The victim placed his backpack near the player sign-in table. When he went to retrieve his backpack, it was missing.
There are no known witnesses to the theft, thus, the suspect is at large.
Oct. 16 –Theft (Building 16)
A student left his unsecured skateboard outside of the Café at Osprey Commons and went inside to eat. When he returned fifteen minutes later, the skateboard was missing.
The skateboard was blue with red wheels, and was a "4th of July" Penny model  valued at $90.
There is no suspect information, and there are no known witnesses to the theft.
Oct. 17 – Parking Pass Theft (Bldg 57)
A professor's parking pass was stolen from her car.
The professor parked her automobile in the Educational Building parking lot. She told UPD that her hands were full at the time, and it is very possible that she left her doors unlocked.
When going out to her vehicle for lunch, she noticed that she had received a citation for not displaying a parking pass or decal.  Her hanging parking pass, valued at $250, was missing. The professor stated that she did not want it to be processed for prints.
There is no known suspect, and there are no known witnesses to the theft.
Oct. 17 –Damaged Property (Building 57)
A vehicle caused $850 in damage when it struck a campus directional sign and scraped two small trees.
A University construction supervisor alerted police in regards to damaged property just north of Building 57. Skid marks were found on the sidewalk, a campus directional sign was damaged, and the bark of two trees was damaged and scraped. The damage done to the concrete-mounted sign was estimated at $750, and the damage done to the trees was estimated at $100.
It was concluded that an unknown suspect driving an unknown vehicle caused the damage between approximately 7:50 and 8:10 a.m. At the time of this report, there were no known witnesses or suspects.
Oct. 21 – Marijuana Found (Osprey Crossings)
A resident assistant smelled marijuana shortly after midnight while conducting her rounds, and reported it to police.
The officer who responded to investigate observed a strong smell of marijuana coming from the room, where he met the resident assistant and the female student.
The student, 19, admitted to smoking marijuana and gave the officer two glass jars and a multicolor pipe with marijuana residue, as well as 2.4 grams of marijuana powder.
The student was referred to Student Conduct.
Email Joseph Cook at [email protected]