Free-throw frustration leads to Southern loss, 87-78
JACKSONVILLE, Fla. — UNF men's basketball made their home debut Saturday night against a winless Southern University, but a squandered comeback gave the Osprey home crowd a somber welcome.
The Southern Jaguars (1-3) managed a 9-point victory in their first match-up against UNF, following three close losses to begin the season.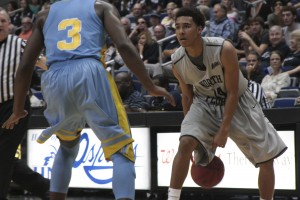 Hitting 31-58 on field goals (6-13 on threes), the Jaguars thrived on open shots, forcing UNF and head coach Matthew Driscoll to play catch up for most of the game.
UNF couldn't overcome their charity stripe issues. The team shot 57 percent from the free throw line, including 41 percent in the second half.
Senior Charles McRoy went 4-4 in the first half on free throw shots, but hit just 2-6 in the second half. Forward Travis Wallace also hit all of his free throws in the first half (3-3), but struggled in the second hitting just 1 of his 4 attempts which was also the only point Wallace scored after halftime.
"With 72 percent (free throw shooting) in the first half, you feel pretty good about it. And then guys who normally make them usually are consistent from there," Driscoll said. "What's crazy is, the last two days we shot a ton of free throws on those two goals."
Wallace was 17 points from getting to 1000 for his collegiate career before the game against Southern, but finished with 10 points and 9 rebounds.
Southern forward Calvin Godfrey led the game in scoring and rebounding, with 25 and 12 respectively, earning the only double-double of the game for either team.
Off the bench, guard Yondarius Johnson made all four of his three point shots leading to 21 points while redshirt freshman Damien Goodwin hit all five of his shots to add 13 more points.
Southern's bench scored 51 points to just 20 for the Ospreys. The Jaguars inside play on both sides of the court also gave the Jaguars a 17 point edge in the paint.
"We better learn how to guard," Driscoll said of his bench. "If we guard like that, it's going to be a long season. [Our bench] has plenty of scoring. Plenty."
A 17 point lead with ten minutes left in the game gave the Jaguars a comfortable cushion to play with, and the Ospreys looked to take advantage. Freshman Chris Davenport didn't take a shot in the first half, but scored 8 in the second. Davenport threw down a dunk in the middle of an Osprey run to cut the Jaguar lead to 7.
"I think any highlight play like that gets our juices flowing I guess," Davenport said. "It gets our energy up and I did think [the dunk] would swing it around. It was kind of in the middle of our run and we were just trying to stay with it as long as we could."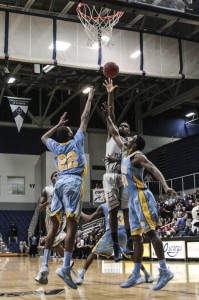 After a lowly 7 point game against Middle Tennessee, guard Beau Beech scored 12 against Southern, despite early foul trouble. McRoy and Dallas Moore scored a season high 14 points.
The Ospreys will match up against Savannah State (2-2) Monday in the second of a three-game home stand, and the first of two matchups against the non-conference foe. UNF is 7-7 against Savannah State all-time and the home team has won every game in the series.