UNF comes flying back to win in the last ten minutes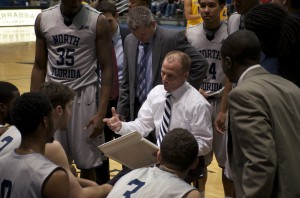 UNF men's basketball team was lucky to go into the half down by only three points Thursday night, shooting only 27.6 percent in that time. But with a 22-9 run in the final 10 minutes, the team came back to beat Stetson 54-52.
Anyone who watched the game from start to finish could see that neither team truly deserved to win the game, at least not in the first half.
The Ospreys' (13-12, 7-5 A-Sun) leading scorer, Dallas Moore, was held scoreless in the first half despite his average of 12.8 PPG. The game seemed to be slipping from the Ospreys hands when Stetson (6-17, 4-7 A-Sun) went on an 8-0 run with just 10:45 remaining in the second half.
The difference came in the last 10 minutes when Moore led the charge, scoring 9 of the team's first 11 points of the half, including a reverse lay-up that started the 22-9 run.
Coach Driscoll said his team earned this victory.
"We earned it by getting consecutive stops after consecutive stops," Driscoll said."We outrebounded them, we got stops, and we made buckets."
Stetson's head coach Corey Williams said in an A-Sun TV post-game interview that it was his team's inability to stop UNF from driving the lane that led to the Ospreys' win.
"We let them drive to the basket, they drove and drove," Williams said. "If you let kids do that it's going to be a problem."
The game ended up coming all the way down to the final buzzer.
Charles McRoy failed to convert on two crucial free-throws with 8 seconds left, giving Stetson the ball with a chance to tie or win the game.
Stetson's Hunter Miller missed a three-pointer as time expired and the Ospreys left the stadium with another win.
"In a game like that, you need guys to step up and make big shots. We just didn't do it tonight," Williams said in the post-game interview.
The victory catapulted UNF into sole possession of third place in the Atlantic Sun Conference, just 2.5 games behind Mercer (18-6, 9-2 A-Sun) and Florida Gulf Coast (15-9, 9-2 A-Sun) who are tied for first.
UNF will face FCGU for a pivotal matchup in Fort Myers on Saturday. The game is a must win for the Ospreys if they want to have a chance at winning the regular season conference championship.