Opening day for UNF baseball is here
[nicevideo link=https://www.youtube.com/watch?v=oI01_P-YDAU]
The UNF baseball team is coming off its best season since joining Division I. They will look to improve upon last year's impressive 40-19 season beginning February 14th, when UNF hosts the Best Bet Classic.
Smoke Laval is entering his fourth season as the Ospreys head coach. In the four years since
Laval was handed head coaching responsibilities from Dusty Rhodes, the only other baseball coach in UNF's 26 years as a program, Laval has posted a 98-70 record with the Ospreys.
Last season, Laval led the Ospreys to a milestone win, when it picked up its 1,000th victory in program history by defeating Georgia Southern 5-4 in 11 innings on April 30th, 2013.
However, Laval said that last year's behind them and that the team must focus on the task at hand.
"Last year is gone, it's done," Laval said. "So we have to start anew, this club has to get its own identity. Whatever it may be, we have to set the tone for that."
On top of the milestone win last year, Laval's recruiting skills manufactured three Freshman All-Americans for the second time in the last three seasons.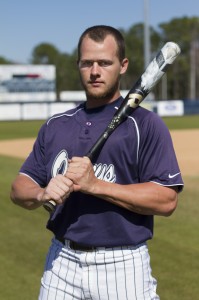 Middle-infielder Kyle Brooks, pitcher/infielder Corbin Olmstead and outfielder Donnie Dewees were all named to the 2013 Louisville Slugger Freshman All-American Team. The team is selected by Collegiate Baseball Newspaper.
Dewees said it was a big accomplishment after not being favored to get a starting spot on the team, but due to unforeseen circumstances he was given a chance.
"I came in and wasn't projected to start," Dewees said. "There were people over me but injuries happened and we only had 11 people so I kind of just got thrown in there. I performed pretty well and it felt really good to get that accomplishment."
Dewees and Olmstead were also named to the 2013 National Collegiate Baseball Writers Association Freshmen All-American Team. Dewees added a spot on the Second Team All-Atlantic Sun to his honors.
The freshman led the Ospreys in hitting last season, averaging a blistering .347, which was good enough for 4th in the A-Sun. He currently sits in 2nd place in the UNF career record books just behind Preston Hale's average of .363 which he set during the 2007-2010 seasons.
"I plan on doing a little better this season," Dewees said. "I worked hard all summer and fall. It felt good to bat that high but I know I can do better so I'm shooting a little bit higher this season."
With every new season in college sports, each school will lose players due to graduating seniors.
The Ospreys are no exception.
They keep six of nine starters on the field but lose veteran catcher Corey Bass. Bass led the team in strikeouts, so that's a positive to take away from losing the senior, but when you look to the bullpen, things don't look quite as promising for the Ospreys.
The 2014 UNF baseball team will start the season with a pitching staff that started a combined 10 games last season.  The Ospreys lost four graduating seniors from its pitching staff. Michael Renner, Kyle Westwood, Nick Allbritton, and Tommy Organ accounted for 50 of the 59 starts by UNF pitchers last season and all of them graduated in 2013.
This leaves head coach Smoke Laval with a difficult road ahead. The coach, former coach of LSU, said it is just a matter of getting new players and teaching them the system.
"It was easy over there, you just reload you don't have to rebuild," Laval said. "One good thing we've tried in my first couple of years was to get a class mix where you don't lose eight seniors. You have to teach the young kids it's all about the process not the outcome."
On the other side of the ball, UNF has 19 newcomers that will make their first appearance in an Osprey uniform this season.
Dewees said Laval's ability to recruit is something that has helped the program in a significant way, despite many of them not playing.
"He recruited a great freshman class," Dewees said. "We had some kids that redshirted who were really good and had to have surgery. We still performed better than I expected us to."
One of the standout players in the 2014 freshman class is catcher/infielder Alex Merritt, who may look to take over for the veteran Bass in the catcher's role.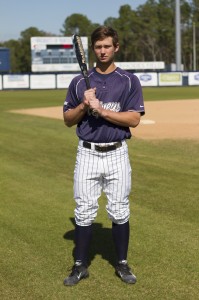 "Obviously it's going to be hard to fill that," Merritt said. "He was a great catcher. I'm just going to have to play the game the way I know how. Play the way the coaches tell us and just keep working hard to try and get there."
Merritt added that the team members have been very helpful to the newcomers and expects a lot of himself in the coming season after the freshman class of last season.
It's no question the Ospreys have a solid core in the infield this season, the real question lies on the mound and whether or not a leader will appear when the opening pitch is thrown February 14th at 3 p.m. inside Harmon Stadium.
Marquee matchups on the schedule for UNF this season include a three-game road trip against preseason ranked #13 North Carolina, and a two-game homestand against the #30th ranked team this preseason, Florida Atlantic. The latter of which will take place Feb. 25th and 26th at Harmon Stadium.