Ospreys fall to USC Upstate Spartans
[nicevideo link= "https://www.youtube.com/watch?v=thZFBUw7wdI"]

UNF had a golden opportunity in front of them this week, but they may have squandered it losing to USC Upstate 81-70 Thursday night at the UNF Arena.

UNF (14-14, 8-7 A-Sun) had a chance to move into a tie for third in the conference with a win and put themselves in a position to host a conference championship quarterfinal game.

But instead, they were outplayed by the team they could have tied in the standings. Now UNF must win the last three games on their schedule if they want to play at home in March's Atlantic Sun Conference Tournament.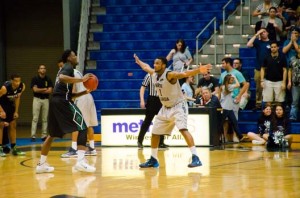 The Ospreys were led by Charles McRoy who had 15 points on 3 for 8 shooting, adding 7 of 8 from the line.
Travis Wallace added 13 points and 6 rebounds in the loss.
UNF made it interesting in the 2nd half, cutting the lead to seven more than once, but that was as close as they got. Despite outplaying Upstate (17-12, 10-6 A-Sun) in the 2nd half, The Spartans were able to hold on for the victory thanks to the fantastic play of Ricardo Glenn who scored 17 points on 6 for 9 from the field.
Head coach Matthew Driscoll realizes his team can't afford to give other teams the lead early and rely on the second half.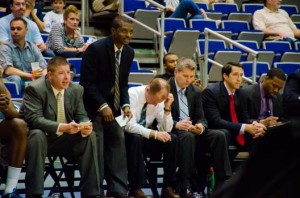 "Do you know how many salmon eggs make it?" Driscoll said. "One percent out of 5,000 that are born. One percent make it because swimming upstream is hard to do. If you give team's opportunities to punch you in the mouth and get leads like that and you're always swimming upstream, it's hard."
The Ospreys play Eastern Tennessee State (16-13, 9-7 A-Sun) on Saturday night in the team's final regular season home game.  A pre-game tailgate will take place in lot 18 beginning at 3:00 pm.