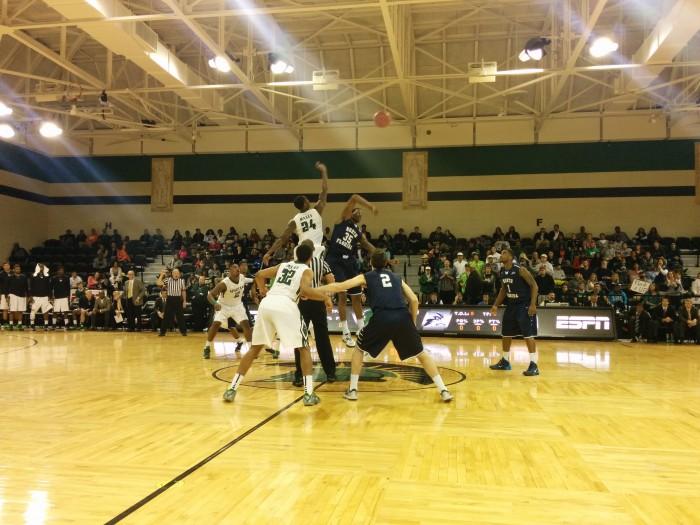 UNF's basketball season ended on Tuesday night after a 80-74 loss to USC Upstate in the first round of the Atlantic Sun conference championship. The Ospreys (16-16, 0-1 A-Sun) were plagued by 11 first-half turnovers, 18 total, which prevented them from keeping up with the potent Spartan offense.
UNF was led by freshman Chris Davenport. Davenport scored a career-high 27 points and added 10 rebounds for his third double-double of his stellar freshman year. He said his team's effort was second to none on Tuesday. "We left everything on the table tonight," Davenport said.
Travis Wallace had 12 points and 6 rebounds in his final game as an Osprey.
Most players would have a negative attitude after losing their final game. Wallace's mood, despite not being on the Ospreys' roster next season, was positive and his outlook toward the team's future was bright.
"It felt great to be out there one last time with those guys," Wallace said, "the sky's the limit for them." Wallace wraps up his outstanding career at UNF finishing 4th on the all-time scoring list. "My career wouldn't have been what it was without these guys," Wallace said, "I wouldn't trade it for the world."
Upstate (19-13, 1-0 A-Sun) was led for the third time this season in as many games against UNF by Ricardo Glenn. Glenn finished the night one rebound shy of his third double-double against the Ospreys, scoring 22 points and adding 9 rebounds.
The Ospreys outrebounded the Spartans for the first time this season, including 19 offensive boards, but the 18 turnovers led to 22 Spartan points that UNF couldn't make up.
UNF's head coach Matthew Driscoll said his team was very somber in the locker room after the game. "They're not sad," Driscoll said, "they're more disappointed that we weren't able to do better."
Driscoll took the blame for the team's loss after the game.  "I kind of feel empty, like where did I let these guys down?" Driscoll asked. He then answered his own question without hesitation: "I just wish I could've done more because this group is really special."