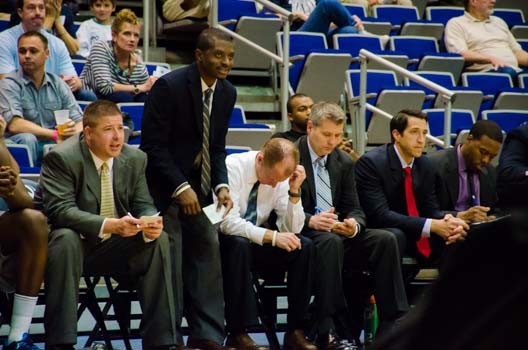 The men's NCAA basketball tournament was full of upsets this past weekend, but none were more shocking than UNF's Atlantic Sun Conference foe: the 14th-seeded Mercer University beat the 3rd-seeded Duke University and advanced to the third round of the tournament. Duke has the highest winning percentage (.750) of any D-I school in NCAA tournament history. Mercer, which lost to UNF twice during the regular season, saw its Cinderella story end after losing 83-63 to the University of Tennessee.
Last year, Florida Gulf Coast University, also in the A-Sun conference, shocked the nation when it became the first 15th-seeded team in NCAA tournament history to advance to the Sweet 16 by upsetting No. 2 seed Georgetown and No. 7 seed San Diego State.
Both Mercer and FGCU play in the same conference as UNF, and UNF competes with and beats these teams regularly during the season. One has to wonder if UNF might make it to the national stage, too?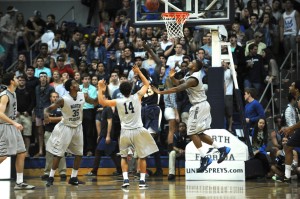 Lee Moon, UNF's athletic director, said the team has seen tremendous progress since the program's infancy. "That's the kind of school you need to be as a mid-major," Moon said. "You need to get good players that become better players over a period of time. We are now at that stage."
He said they are poised to take the next step with young players on the roster. This includes A-Sun Freshman of the Year, Dallas Moore, a multifaceted player, who possesses the talents of someone who could compete for a roster spot on any school in the nation.
Joining Moore is 6'11" 235-pound Romelo Banks. Banks received limited minutes this season due to senior Travis Wallace starting at the center position. However, with Banks' size and three more years to grow and improve, UNF could be looking at a player that will soon leave a legacy.
Team dunk-leading power forward Chris Davenport rounds out the UNF trio of core freshman. He led the Ospreys in field goal percentage during conference play this season by shooting 52.8 percent. He was a starter in every game this season except the first.
"These three guys are not only talented, they're tight too," head coach Matthew Driscoll said. "I have no doubt they have the ability to win; it just comes down to where their motivation is."
After seeing two teams from their conference defeat AP Top 25 ranked teams in the NCAA tournament in back-to-back years, the Ospreys' young collection of talent shouldn't have trouble staying motivated. If Driscoll is correct, two or three years from now UNF students might be watching the defending A-Sun champions play at UNF Arena.