He's armed with a blue apron, an arsenal of frying pans, and an assortment of fresh meats, veggies, and cheese. Faced with a dozen hungry students in pajamas, he asks: "Would you like regular eggs or egg-whites?"
This is every week day for Osprey Cafe's omelette guy, William 'Will' Hicks, 32, born and raised in Jacksonville's northside. But it wasn't always about cooking eggs.
"I love any cooking in general," he said, "anything in the kitchen – especially if it's fast-paced." He said learning to cook was important in a house of seven siblings, so he grew up with food.
Hicks was 15 when he got his first food service job at a Jacksonville Landing restaurant called Flamers Grill. "My main duties were as a dishwasher. I worked my way up to fry guy. Then I worked my way up to the grill," Hicks said. Cooking came naturally to him.
Now, students walk up to Will's station and ask for their regular order.  Hicks said sometimes he has students come back every day with the same order, so he knows what they want.
Often, students can see a plate with a fluffy, golden omelette sitting on the shelf overlooking the station, waiting for the owner to come by and claim it.
Costa Stathis, chemistry freshman, said he eats an omelette at the cafe at least three times a week.  "I order something different every day, but [Hicks] knows other people's orders and starts making them," he said.
"It's the style of cooking. It's all about how you handle it, the way that you cook your items with passion," Hicks said. "Because if you don't put any of that into it, it's going to turn out like flop."
Communication freshman Logan Rittenberg eats Hicks' omelettes at Osprey Cafe every day. He said he orders an egg-white omelette with spinach, and it's the best thing to eat for breakfast at the cafe. "He knows what's up and always gets it right the first time."
"Even if I'm at my best, I'm always trying to think about ways to make it better," Hicks said. "I believe in making mistakes, and I don't mind redoing an order. Mistakes happen, but to consistently do it doesn't make me happy at all." He said he only cooks omelettes Monday through Friday in the mornings while at the cafe.  There's no art to them, he said, but it takes cooking with passion to make it taste good.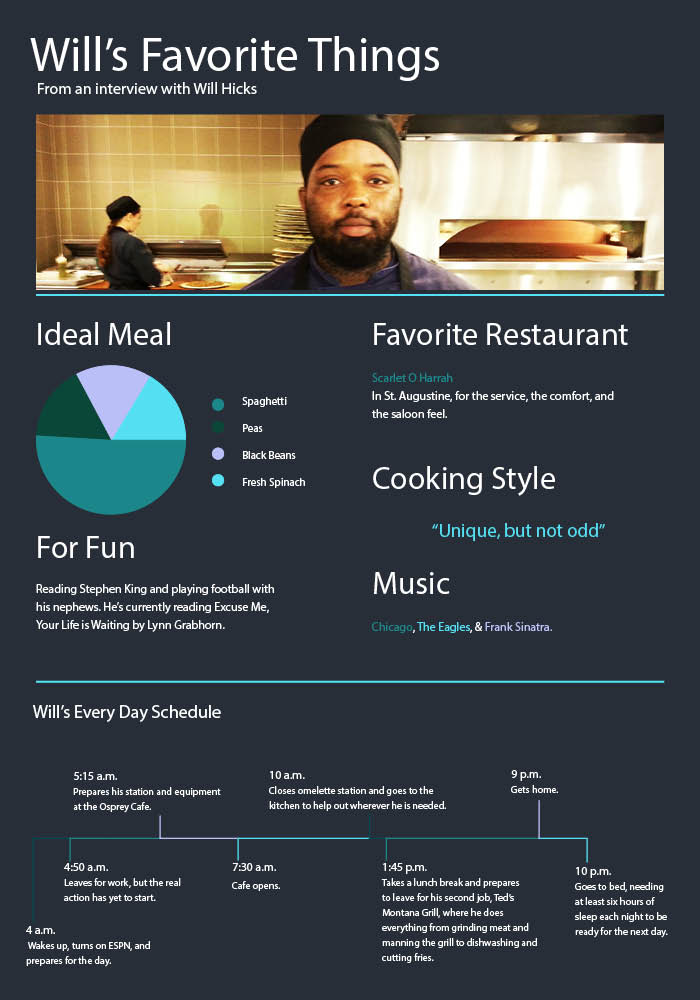 Email Brandon Thigpen at [email protected]